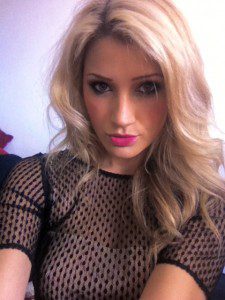 Hi, I'm Lucy Love, wing girl (filling in for Sarah Ann) and online dating extraordinaire based in Sydney, Australia! A few months ago I decided to start testing a new online dating app, and I had such an interesting (and funny!) time that I decided to share a few of my biggest online dating tips to help you figure out what you should and should not do to get a woman's attention on Plenty of Fish, OK Cupid, Match.com, or wherever all of your local ladies are signed up.
The realm of online dating places thousands of women at your fingertips. Seems too good to be true, right! Well, here's your first piece of online dating advice: there is a catch, and regular relationship advice doesn't work here.
Women can easily hit DELETE or ERASE when they don't like what they see or read. We don't feel guilty for hurting your feelings by not replying. We have not built any emotional connection to you because we haven't met you. If you buy a girl a drink at a club, she may feel obligated to talk to you for a few minutes so that she doesn't appear mean or rude.
However, girls do not have to give you the time of day online. Some women (new to the online dating world) may reply saying, "sorry, you're not my type." We soon realize that its easier to just NOT reply to someone, rather than having to block them when they get angry or upset at the polite rejection.
There are a lot of guys who do online dating who are only interested in one-night stands. Most tend to be very, very forward and announce the fact that they want a piece of ass within the first 5 words. However, thanks to the media throwing out online dating advice warning girls about predators on the internet, women are very wary when it comes to online dating.
It takes a lot for a woman to actually meet someone face to face (in a public place) for a first date. When I jump online, I always start with the presumption that the guy I'm talking to is a 50-year-old psycho. The guy then has to prove to me that he is a genuine guy looking for a genuine girl to date.
I once had a guy ask me what was wrong with his online dating profile picture. I told him that girls would be put off by the large steak knife in the background of his picture. Another guy asked me why girls weren't replying to his openers. I told him that his profile picture (a close up of his eye) was probably scaring girls off before they could even read his opener.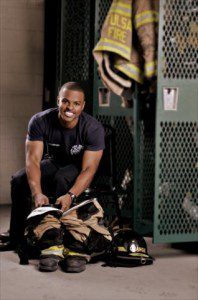 "But Lucy, how do I actually know what to do and say?" Fear not, because it's easier than you might think if you're willing to put in a little bit of practice.
TOP ONLINE DATING TIP #1
My biggest piece of online dating advice is to know your audience and let your profile picture cater to that. Do not give off the impression that you are an ax murderer! For goodness sake, SMILE in your online dating profile picture! This will communicate that you are friendly and approachable. Especially if you're Asian, otherwise you'll come off as expressionless and creepy with the Asian Poker Face.
Also, only add photos if they are good quality photos. If you put up a blurry picture, women will wonder why you are hiding your looks and come to the conclusion that you are not a Brad Pitt lookalike. DELETE!
Also, put up some pictures of you and your friends. This will…
Show that you actually have friends.
Indicate that you associate with people (rather than just creepily staying in your room playing computer games and chatting to hot women.)
Illustrate that your profile is (hopefully) not fake. Women are smart and we will try to catch you out as we like being detectives.
If you're Asian, YOU MUST SHOW SEXUAL VALUE in some form: be it muscles, a handsome face, cool hairstyle, art, music, sports, fashion, etc. If you look like a glass-wearing, bowl cut, FOBBY Asian in a sweater vest sitting at a computer desk, I guarantee that you'll get ZERO replies from girls.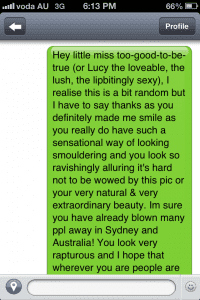 Also, if you are looking for a genuine girl to date, be genuine! Even if you have a fake online dating profile name, eventually you will get to the stage where you will give out your real name to the girl you are chatting with. Please realize that she will Google your name, look you up on Facebook, and work out if you have any common friends. Women stalk and stalk and stalk. It's just what we do. It helps ease our fears that you are not an online stalker. Ironic hey!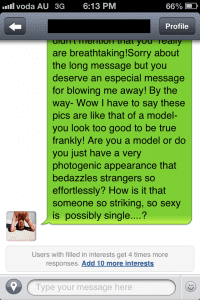 Now for some genuine pieces of online dating advice, complete with examples.
DO NOT write an essay as your opener! We will not write back as you appear very very desperate. We will however laugh about it and show our friends. The truth hurts, but I am hoping the truth will also help you! Keep your openers relatively short.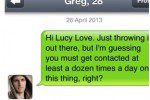 DO NOT ask a girl if she gets contacted by a lot of guys on these online dating sites. Girls often get contacted by a ton of men on online dating sites. I remember when one of my guy friends helped me set up an online dating app for me to use on my iPhone. He uploaded my profile picture and then was shocked when I received 99 hits in the first 5 minutes. "Hey, I don't get that many hits. That's not fair," he said. Realize that the woman you are trying to chat with has been hit on that day many times, in the club, walking to the grocery store, at the beach, AND online. Don't ask the question if you already know the answer.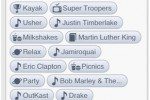 DO NOT write too many interests in your "about me" section. 137 interests – it's too many. Some online dating sites need you to enter a lot of interests to gain access to other online dating levels. However, don't go overboard filling them out. It will look like you have way too much time on your hands, which is not attractive. Men that spend all of their time on online dating websites couldn't possibly be functioning in the real world adequately (job/friendships/hobbies.) We really don't want/need to know that your interests include "picnics," "Justin Timberlake" and "happiness." Less is more.
DO NOT verify your account with Facebook if you only have a handful of Facebook friends. This will scream "L O N E R" and "L O S E R."
DO NOT add pictures of yourself getting cozy with another girl. Women will get jealous and think it is an ex girlfriend. We will also think you are just plain stupid. However, putting up pictures of yourself and a few girls (friends) is ok, if it is a respectable picture. This will show once again that you have friends and that girls are willing to talk to you in the outside non computer-screen world.
DO pay attention to the interests and "about me" section of the woman you are trying to chat to. For example, one of my interests is "Hawaii." I am obsessed with Hawaii and have been there 4 times. One morning I checked my inbox and found the opener; "Hey, I'm planning a trip to Hawaii, should I go for one week or a few weeks?" BINGO! I replied. If your profile picture is not model material, often a line showing an interest in the girl you are talking to will demonstrate that you are more genuine than the guy saying…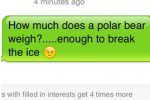 *crickets*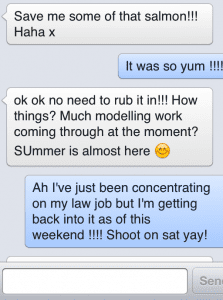 DO pay attention to her pictures/albums. A few weeks ago, I put up a picture of my gourmet lunch. (Yes, I'm one of those annoying people who document foodporn.) Anyway, I accidentally posted the picture as a public profile. Anyone and everyone could see the image. Next minute, a random guy inboxed me his opener. It absolutely worked! Here's the conversation… This man had obviously done a bit of research on my profile before he messaged me. His conversation starters dealt with topics he knew I had an interest in. Couple that with a bit of humor and BINGO! I was hooked.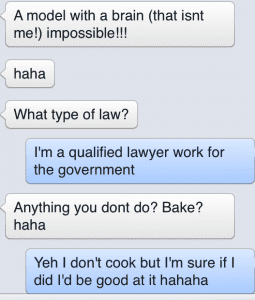 And there you have it, seven pieces of online dating advice to help you master the new dating frontier! I won't pretend that they're a magic pill – they're not, because with online dating you lack the luxury of having your body language and facial expressions work in your favor – but with online dating being such a new frontier, every little bit helps. A good profile picture, a little bit of wit, and an eye for attention to the little details about the girl you're interested in will take you a long way.
If this online dating advice isn't enough and you still find yourself struggling online or in person after getting a girl to agree to a date with you (you lucky dog!), then check out one of our pickup artist bootcamps where we'll help you figure out exactly what you need to do to start bringing in the beautiful women that you deserve or join me as I wing-girl for you in London, United Kingdom PUA Bootcamps.
Or check out our Text To Sex product that includes smartphone, Facebook, and online dating!