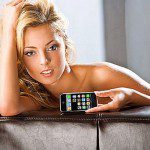 Q: Which social media, in your opinion, is the most effective for online dating or picking up a girl if you've never met her in real life?
A: In my experience, there is no substitute for meeting girls in real life, but internet and online dating is a new and great way to supplement your pickup experience. We always encourage people to go out and take the bull by the horns but, in the case where a person is super busy or needs a change from the Pickup scene, many of my coaches have a lot of luck with PlentyOfFish.com, which is a great, free dating site where you can customize your profile and meet different women sorted by area.
Instructor Gareth Jones also uses Facebook and Myspace to great success in a sort of 21st Century online social-circle game (as outlined in the Text To Sex six hour online training video seminar). We always encourage people to try many different options out to see what works best for them. Beware, however, of the sites that make you pay.
Remember, meeting girls at the grocery store is free so we believe meeting them online should be free as well.
Q: Which social media is best for maintaining or furthering existing relationships?
A: The trick to maintaining relationships has to do with "Maintaining Regular or Daily Presence" (one of the three types of Text To Sex flirting stratagems) in those people's lives. Being in their thoughts often will cultivate their interest and further thought about you. While MySpace used to be the king of the hill, it's now Facebook and it truly is an awesome way to keep track of your social circle and 'Maintain a regular presence' in their lives.
While there is no substitute for the good, old-fashioned phone call or meeting face-to-face, Facebook is often a great way to keep your friends (and lovers) abreast of the changes in your life. Supplement that with the occasional text or IM convo and you've got an updated and involved lover.
In fact, our Text To Sex workbook contains a step-by-step breakdown and detailed example of how Gareth went from a cold online approach to full Facebook dating close.
Q: How do you go about going from "text to sex" via Facebook?
A: Going from Text to Sex (the ultimate form of iGame 2.0 in the 21st century) is all about escalation. In every form of communication, you can bring a woman into an emotional state and turn her on. Once she is turned on, she's going to be making decisions based on what will bring her the most pleasure.
When she's hot enough and you've presented her with the option of "coming over and watching a movie" she is going to jump at the chance to be close to you and to do all of those things that you've described to her.
Q: How do you go about going from "text to sex" via email?
A: If you're going to engage in email flirtation which are longer and more well thought out, then you start off small. Don't make your first emails to her too long as it'll come off as desperate or needy.
Make a few jokes and observations the first time around. And then after a couple emails, slowly you engage her by bringing her into your world before going too sexual. Realize that because this is written communication, it's both a great way to get in the mind of someone, but it also requires a high level of wordplay and dexterity.
Q: How do you go from "text to sex" via Twitter? How do you go from "text to sex" while instant messaging?
A: Any sort of instant communication method will work best in this scenario (text, phone, IM), but if you have a very attentive facebook user or diligent email checker, it can be just as useful. Generally, the fewer steps a woman has to go through to send you a message and the more private the medium is, the more effective the method of communication is going to be, hence why twitter (a very public forum) and why myspace (which has a very involved message-sending process) aren't the best forms of communication for skipping the first date.
Of course, we'll discuss this in our upcoming release of the ABCs of Attraction's phone, internet and text dating seminar entitled "Text To Sex." This advanced digital-only video course will revolutionize your phone game, answering your most basic questions and expanding on them with the most detailed subjects, as well. Not only will it include what to do after the initial interaction, but it will give you examples every step of the way to ensure you have great success!
Q: What about dating sites like Match.com? Worthwhile or just go straight to the women?
A: Like I previously mentioned, I am hesitant to pay for internet dating sites when amazing networks like Plenty of Fish are out there, but if you have the money and want to experiment, we always encourage it. These sites are a good way to work on your conversational skill and to learn to be more comfortable communicating with women.
Q: Is English and proper grammer important to online and Facebook dating?
English doesn't matter in person, only 13% of what women are interpreting has to do with the words you're using, unless you're doing it over text in some way. In person, enthusiam, body language, smile, and kino take the cake for the success of an interaction.
When writing, those are impossible to discern, so you lose their effectiveness. The whole point of what I was saying is that we're NOT talking about interactions in person, here, we're talking about pure textual interaction and that is ALL related to how and what you type.
Q: What if I need more help getting started in internet, online, or Facebook dating?
If you're still unsure about delving into the fraught world of online or Facebook dating, consider checking out our program Text To Sex. More than just texting, it is the world authority on everything related to getting a girl on a date through your smart phone.
From getting her number with a free bonus audio guide, six hours of video scouring over every single conceivable topic and contingency, bonus videos by Sarah Ann on the do's and dont's of dating from a woman's perspective, workbooks, transcripts, Powerpoint charts, and graphs, if your question or issue about using technology in dating isn't answered, then it doesn't exist.
In a world of smart phones, shouldn't YOU be playing Smart Game?