Check out the Las Vegas Immersion Program testimonial:

Every once in a while, I have to pinch myself so that I'll remember to appreciate the situation that destiny has found fit to place me in and where I can pick up some of the most beautiful women in the world. One of these situations is the weeklong, advanced Las Vegas Immersion Program.
In fact, there are a lot of times that I have even more fun working than I do when I'm not, which is why I always jump at the chance to travel with the ABCs team and teach men all over the world how to take control of their lives, be the chooser of the women they want.
Without any further ado, allow me to paint the picture of an SIN CITY, bustling with the BIGGEST PARTIERS around the world and where the phrase "What happens in Las Vegas, stays in Las Vegas." A few things about Vegas clubs:
In order to get into virtually ANY bar or club in Vegas, you're going to have to shell out between 30-40 cover charge.
This is just par for the course and if you expect it to be a night out where famous DJs are performing, it's going to cost you even more.
Thankfully, Las Vegas has MANY guestlist services, which you can use to avoid the cover if showing up before a certain time. (It depends on the event they are holding)
Lucky again, Las Vegas is the party capital of the world so something is happening every night! As a result, a lot of the clubs were already LIT by the time we arrived and went well into the night.
This is especially true when we go doing Halloween week for our annual Las Vegas Immersion Program. Halloween is the one time of the year where women are encouraged to dress as sexy as possible without fear of being slut shamed. It's an entire week of absolute sexual abandon and debauchery!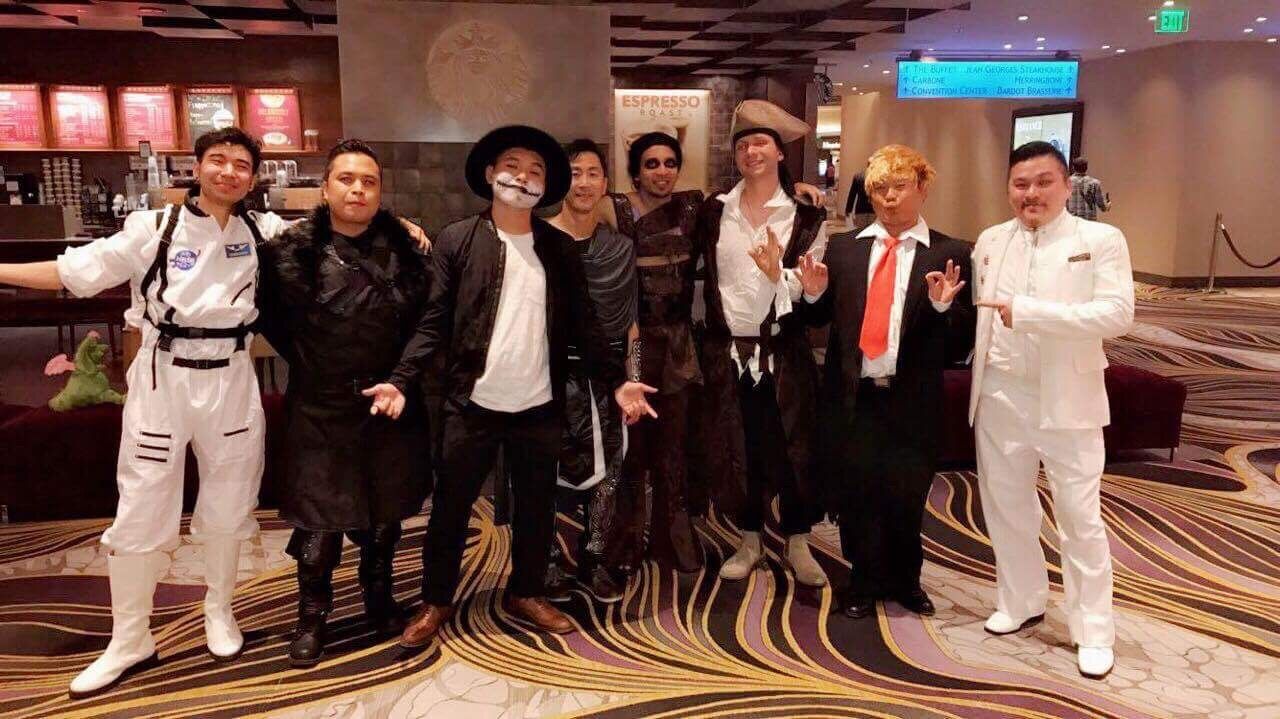 Las Vegas Immersion Program Class Of 2017
Now that we've made that clear, it's time for Where to Pick Up Girls: LAS VEGAS, NV!
Top Tier Clubs:
XS (Wynn Hotel, 3131 S Las Vegas Blvd, Las Vegas, NV 89109)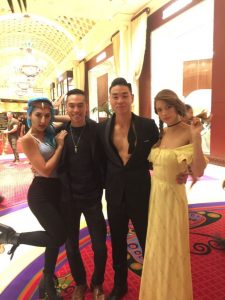 What a beautiful venue located in the Wynn Hotel. It has a indoor club area but what sets XS apart is the outdoor area. It is so huge. Also, you can actually speak to the girl without the music being a cock block. There are a lot of isolation locations where you can take the girl for comfort too. Overall, XS is a must go to venue while you're in Vegas. Always dress to impress.
This is where the majority of the 10s were, as it was the most highly visible area with the most traffic, great for approaching and high-energy game.
Cost: $$$
Logistics: 10/10
Probability of Close: 7/10
Overall: 10/10
HAKKASAN (MGM Grand Hotel, 3799 S Las Vegas Blvd, Las Vegas, NV 89109)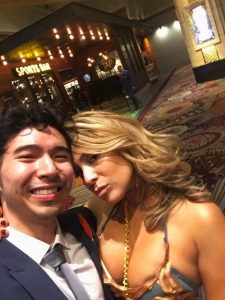 Hakkasan wow! Located at the MGM Gran Hotel, the quality of girls here is amazing. Beautiful women. I also went to Hakkasan for closing time, but this is the place that has the highest probability for you pulling. There is bar right next to the club which is open very late too so you can take your girl there.
Cost: $$$
Quality: 9/10
Logistics: 8/10
Probability of Close: 9/10
Overall: 8/10
MARQUEE (Cosmopolitan Hotel, 3708 S Las Vegas Blvd, Las Vegas, NV 89109)
I would say Marquee is like a poor mans version of XS. Located in the Cosmopolitan Hotel, it has a bigger dance club area than XS but the pool outdoor area is smaller. It is a beautiful venue though since it is in the cosmopolitan. However, taking the girl to close location sucks because of it being upstairs. However, there is late night food options which you can bring girls too. I would say the logistics of bringing the girl does diminish the overall value of Marquee.
Also, Marquee seems like most the quality girls were inside the dance floor tables which makes it harder to close. You will need social circle game or your own table to increase your chances.
Cost: $$$
Quality: 8/10
Logistics: 6/10
Probability of Close: 6/10
Overall: 7/10
INTRIGUE (Wynn Hotel, 3131 S Las Vegas Blvd, Las Vegas, NV 89109)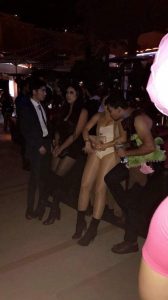 Intrigue has a large indoors and a smaller outdoor area. So logistics for isolation is not bad as it's also inside the Wynn Hotel with XS and Encore nightclubs.
However, Intrigue seemed more of a set up for table buyers. Also, the quality of girls were okay here. But the outdoor area does help a lot for isolation and comfort.
Cost: $$$
Quality: 7/10
Logistics: 7/10
Probability of Close: 7/10
Overall: 7/10
Average Middle Class Club:
JEWEL (Aria Resort & Casino, 3730 S Las Vegas Blvd, Las Vegas, NV 89158)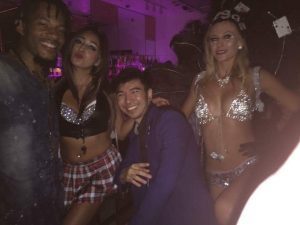 Honestly Jewel is probably not the best for cold approach. I mean it had an upstairs and downstairs but the music was loud in both areas. And they make the table buyers super exclusive where you cant even get close to them. They actually restrict the dance floor area.
However, one of the Las Vegas Immersion students did pull from Jewel so I'd say the girls in the non table areas, if they stay, there is a probability. However the quality of girls in those areas were not that high as it's inside the Aria Resort & Casino Hotel.
Cost: $$$
Quality: 7/10
Logistics: 7/10
Probability of Close: 7/10
Overall: 7/10
DAYGAME IN LAS VEGAS, NEVADA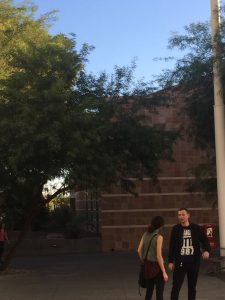 University of Nevada Las Vegas (UNLV, 4505 S Maryland Pkwy, Las Vegas, NV 89154)
Whats more attractive than college, sorority, coed women in the party capital in the world?!! UNLV women are smart and beautiful. Only precaution is that if you are a out of towner, she will be cautious of you. So focus on
COMFORT GAME with her so she trusts and feels safe with you.
LAS VEGAS STRIP
Yes it is packed with tourists but it is also filled with women who want to party. You will see women partying on the strip constantly from dusk till dawn. Las Vegas Strip is always full of people which means you can always find the woman of you dreams!
LAS VEGAS LOBBY GAME
Vegas is party 24/7. There are people who are constantly partying and drinking. That is where the lobby of all the big time Casinos comes in. You will see women everywhere who are gambling and enjoying hte finest casinos that Vegas has to offer.
The Big Casinos with the most abundant women are Caesars Palace, Wynn, MGM Grand, Cosmopolitan and Encore.
CONCLUSION:
Honestly, I would stick with XS and Hakkasan. Weekdays the clubs do struggle with quality and amount of girls but the weekends go for the two biggest nightclubs I just mentioned. Hakkasan seems like the chances of pulling is the highest but XS has the higher quality. To each is own.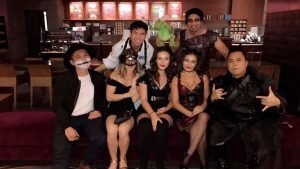 If you can afford a table, get a table. It makes everything easier. You don't have to worry about logistics because you have a table to pull the girl too. Also having a room at the hotel of the club is always money. Or you can use the bathroom, car, etc and be creative. Either way, think of Vegas as adventure. Anything is possible. Remember…what happens in Vegas, Stays in Vegas (only if you use protection).
If you're not ready to go out on your own or have been thinking about taking one of our world-famous bootcamps, check out these Las Vegas PUA Bootcamp Reviews with real student testimonials.
And when you're ready, take one of our life changing Las Vegas Immersion bootcamps.