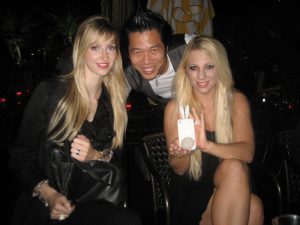 In this edition of our highly popular "Where to Pick Up Girls" series, we will talk about one of the PUA capitals of the world… New York. The Big Apple, otherwise known as the city that never sleeps – and it definitely delivers! But even if you do sleep, I'm also going to reveal some of my favorite (and secret) Day Game spots!
This is the one city in the world where every body parties. From the Wall Street brokers and law firm partners of Manhattan and for those of you looking for a sugar momma to the beautiful aspiring models and actresses, there is something for everybody. Something about the fast pace nature of this city attracts the most gorgeous girls from all over the country working to look like the hottest girl at any given club (meaning anything from elegant to hoochie and everything in between).
WHERE TO GO TIPS: There's something for everyone, so long as you know where to find it. There are the clubs in the Meat Packing District where the Jersey Shore / Guido / Bridge & Tunnel types go, to the bars that hipsterish Lower East side crowd frequent. I'm just going to address just a fraction of the more popular areas with an eye for both quality and quantity that a young, healthy, and active PUA might want to have fun at. This guide only scratches the surface. Have fun exploring my city!
Friday Night:
Brass Monkey (55 Little West 12th St or Little West 12th and 10th Avenue): Free admission to this Irish Pub style bar in the outskirts of the meat packing district. This 3 story bar (with the top being a rooftop) is where YUPPIES (young urban professionals) congregate. If you have a specific preference of girls, you are likely to find them here.
The downstairs bar is jam packed so if you want to roll up to that blond hottie at the bar, you are going to have to part seas with your Walk of Khan! With no real dance floor, it is fairly easy to approach people socially with the Kickstart Opener.
People are less likely to get dressed up for this venue, so calibrate accordingly.
Kiss N Fly (409 West 13th Street or 13th Street and 9th Avenue): This is NOT for the faint of heart. Wall to wall hotties, crowded dance floor, selective door, and high cover (about $20), but if you get in and run your shit, this is where you get you can find your next modelesque girlfriend for the night.
If you happen to arrive with good value, your rewards for entering this venue is a platter of hot girls who assume you belong. Any hint that your passive value is not of their liking, you will be tested. Go in with purpose, go in with a dominating demeanor and it's assumed that you will soon be locking lips with a Blake Lively lookalike.
Saturday Night:
230 Fifth (230 Fifth Avenue): This former PUA haven has cleaned itself up by no longer allowing clothing that could have come out of The Jersey Shore. The ladies of this classy lounge come dressed elegantly for a breathtaking rooftop experience above the 16th floor of this New York Skyscraper.
It is highly suggested that your group come with reservations for a table for this venue can easily have over 1000 people looking for a nice cozy cove to "get to know" some one they have just met. Keep in mind that many of the ladies that goes to this venue are tourists and you will have to work out the logistics quickly for any activities you two engage in after the friends have been ditched.
Plunge (18 Ninth Ave or 9th Avenue and 13th street): If there was any such thing as a "Sex and the City Tour", this would be the place they end the night for any of the girls who still haven't found their man of the night. The crowd here is slightly older (25-35), but they certainly are not afraid to reveal their sexy side.
Come to the doorman with girls (even those you met right outside the venue), slip him a red bull on his break and you will certainly be taken care of (I've since been able to skip the line on subsequent visits, rolling in with 3 dudes and 6 girls – MASSIVE DHV). Not difficult to stand out here in that ever body will show up in a black suit jacket and plain/boring jeans, although I would avoid showing up in a t-shirt and baggy jeans.
The girls here want the interaction to move along fast and find out quickly whether you are fun or fake – in case you haven't noticed, this is a theme of girls in New York.
Sunday Nights:
INDUSTRY TIP: Even though this is the city that never sleeps, finding a good Sunday night spot can be tough unless you're in either the KNOW or in a particular niche crowd ranging from the emos, hipsters, ravers, and bohemians. Befriend promoters, bouncers, and hit up the service staff like the waiters, waitresses, and bartenders so you can figure out where the "in" industry parties and venues are.
Hotel Gansevoort Roof Top Bar or Plunge (18 Ninth Ave or 9th Avenue and 13th street): Same as above on Saturday, but entrance is not as tough. But don't expect it to be a cakewalk getting in (dress appropriately) or picking up at the place.  The occasional PUA shows up and there are a lot of out-of-towners from both sexes.
Turtle Bay (2nd Avenue and 52nd Street): Go here to take the guidettes away from the guidos. The only fictional part of "The Jersey Short" is that just about every Italian hottie is leaps and bounds hotter that Snookie. This is where you go to test how far you have come along in your ability to exude dominance. If there's one thing that the Italian belles love, it's a guy being able to AMOG the steroid infused guidos.
675 Lounge (675 Hudson Street): This is "Brass Monkey Lite" meaning the venue is easier to work (not as loud and people are in a more social mood), however, the girl are not as hot and a solid approach means you are simply being social. Great place to start the night and get yourself socially lubricated.
Honorable Mentions:
1. Dive Bars With Hot Girls
Brass Monkey (Little West 12th Street and 10th Ave)
Beer Garden (Little West 12th St and 9th Ave)
675 Lounge (675 Hudson St)
Sutton Place
Good: Lots of hot girls. The young professional, post college graduate girls are exactly my type of girls. I can relate to them the most, and I tend to think they are the most attractive personality wise and physically. Easy to get in. Dress code is very lax. Can be a Manhattan crowd.
Bad: Anyone from the Bridge & Tunnel crowd can get in, and dress code is casual. Thus, it's more difficult to stand out when you're in a sea of guys wearing T-shirts and other casual clothing. Sure, you could get dressed up, but then you might look out of place. Difficult to stand out, and tends to be social circle oriented. AMOGS/fratty type of guys. Also, sutton place has a lot of bridge and tunnel. that area tends to be bumping.
2. Classy Lounges
230 Fifth Rooftop Lounge (230 Fifth Avenue)
Plunge (on the roof at the Gansevoort Street Hotel)
Empire Rooftop Lounge (63rd St near Broadway)
Good: Lots of hot girls, and dress code is more stringent. Collared shirts and blazers recommended. Thus, it is easy to look good and stand out from the rest of the dudes wearing daddy's suit jacket.
Bad: Difficult to get in, so either get in early, or find hot girls on the line to get in with, or be prepared to bribe the bouncers
Day Game Spots
New York Streets: The expression that the streets are paved with gold doesn't exactly apply, however, the expression that the streets are lined with cuties definitely applies here. I personally have met girls on the streets and ended up going on dates with them later that day or later in the week. This can be a grind though in that the cuties can hibernate in the winter time, however, where there are pedestrians, the will be approach opportunities.
Whole Foods Supermarket (Union Square): Are you trying to figure out where that hottie Yoga instructor of yours goes to shop and eat? How about all those theater actresses who can't go out on weekend nights? Well, this would be the place you can find them. Something about organic foods markets attracts girls who strive to stay in shape and they appreciate that you are taking care of yourself in the same way. Approach them in a very matter of fact manner, projecting to them that you are an unashamed man of action and the attraction points go way up! The in venue dining area and café are ideal for those instant dates that surely will come your way. Bare in mind that with daygame, you must have your inner game and your passive value totally solid. Any mistake and the error is amplified.
Day Game Honorable Mentions
Other: Usually I go to bookstores or grocery stores. The beauty of NYC is that really it's not dependent on where you go, it's more like what time of the day you go. Mon-Fri, around 4-6 after work, literally everywhere you go is TEEMING with gorgeous girls. It is so ridiculous it doesn't even matter where you are in the city. Upper west side, upper east, lower west, lower east. It literally doesn't matter in my opinion.
Central Park: Also I think Central Park is an untapped resource. You can do day game there similar to having bottle service, except having a cooler with root beers and approaching groups of girls sitting on the park lawn and inviting them over. Every time I go I always see groups of girls by themselves playing catch or similar casual outing, and there is no reason for them to not be there with their boyfriend unless they don't have one, right? Why else would they be there, NOT with their boyfriends.
CLOSING THOUGHTS: Overall, New York is a fast paced town. It's not uncommon to have a girl judge you immediately. This also means that it is not uncommon for a girl to want you to take her home minutes after you meet her. Bring you're A-game and recognize the opportunity for you to fully romantically connect with the next top model and you will definitely be handsomely rewarded. Happy Hunting!
If you're not ready to go out on your own yet and have been looking into taking one of our world-famous bootcamps, check out New York City PUA Bootcamp reviews with REAL student testimonials.
Check out this New York PUA Bootcamp video testimonial:
And then take our highly reviewed New York PUA Bootcamp.