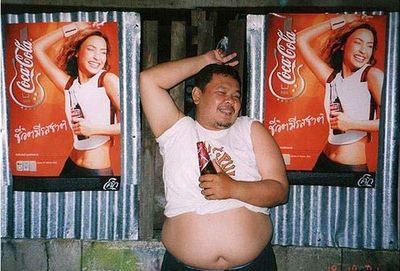 Women often view Asian men through negative Asian stereotypes. When the typical non-Asian who has no real understanding of modern Asian-American culture hears "Asian men," visions of the fobby and nerdy Asian Long Duk Dong often fill their heads. Asian men are often portrayed and borderline vilified as asexual, nerdy drones who are obsessed with porn and are, on the occasion that they do manage to find a girl, violent.
This needs to stop now.
There are many various reasons that girls ignore an Asian guy, but I compiled a list of the eleven most common Asian stereotypes that I hear. I'm not all about negativity. On the contrary, there are certain stereotypes about Asian men that actually drive women WILD (click here and here to see them). I even have several female staff members who exclusively date Asian men. There's hope for us Asian guys in the world.
But in the interest of your self-betterment, this particular article will deal with the negative stereotypes women often have about Asian men so you can help combat the problem.

Today, we're continuing with a four-part series on common stereotypes women have of Asian men, and how you can combat these negative images. Look for the third set of common stereotypes in Part 3: Paper Tiger.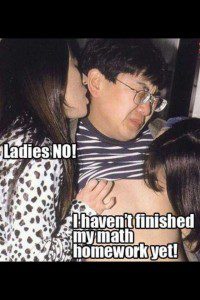 #10 AMs do not like Non-Asian Women
 WHAT SHE THINKS:
A few years ago, we employed a girl named Claire, now Miss October 2010 and Playmate of the Year 2011. She spent her childhood years in Alhambra, California, notorious for its Asian-American community and the numerous sexy Asian guys walking the streets. While she grew up and attended school with a huge population of Asian-Americans, she was NEVER approached or asked out by an Asian-American guy. Talk about an Asian stereotype, right? If she went on a date or was asked to a dance, it was by a Black, Latino or White guy. When she started working at ABCs of Attraction as a wing-girl, she never thought that Asian guys even LIKED non-Asian women due to her experiences. Because Asian men, for a gamut of reasons, are less likely to approach non-Asian women, these women assume that Asians like to date other Asians exclusively. Whether or not the girl thinks he's a sexy Asian guy, this Asian stereotype might make her write him off as a potential partner.
WHY THIS IS BAD:
This is the REAL one. This is what kills us sexy Asian guys everywhere. The thing is, we perpetuate this Asian stereotype and THAT'S why it's so damaging. Asian men on a grand scale are not asking non-Asian women out. This is reflected by marriage statistics, where 3 out of 4 Asian/White marriages are Asian girl/White guy. In a nutshell, if we don't ask non-Asian women out like Black women, they think we don't like them. This, in turn, perpetuates the Asian stereotype. We can't do anything about Breakfast at Tiffany's or Sixteen Candles and we can't take down the media that continues to exclude Asian men as positive icons; those Asian stereotypes are already out there. But there aren't enough Asian girls in the world anymore due to China's one-child policy and mass female infanticide, and, even when they do exist, they don't always date Asian men. Asian men depend on ALL women for the chance at reproduction, White women included. If we as a group perpetuate this Asian stereotype by "sticking to our own" and discounting non-Asian women, we risk 20% of us never getting married.
WHAT YOU CAN DO:
You know that blonde girl that works in the school bookstore? Go up to her and tell her you think she's really cute and compliment her on her creative outfit. Recall that tall brunette that always seems to be at the club when you are? Approach her directly and tell her she's fucking adorable. Remember that smoking hot Black girl that works at the restaurant you and your buddies hit up to watch the game? Ask for her number. Be her sexy Asian guy. By going out and actually asking non-Asian women for phone numbers and dates, you remind these women that you do exist and that you are a sexual being–you defeat the Asian stereotype. Even if you do like Asian women, they need to be reminded that you are a sexy Asian guy and desirable by women of all races, not to be used as a last resort. If Asian men everywhere asked out one non-Asian woman a day for an entire week, month, or even year, the perceptions women have of Asian men and this Asian stereotype would change dramatically…and it all begins with you!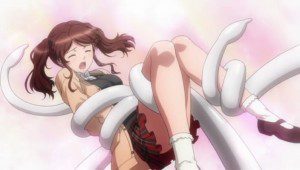 #11 Creepy Porn Guy:
WHAT SHE THINKS:
Asian tentacle porn. Not cut, toned, well-hung, sexy Asian guys. But Asian tentacle porn. I could probably just write that phrase over and over again throughout the entire sentence because that's about all she's going to know about Asian porn (other than hentai, but that's pretty weird as well). While she's most likely never looked for Asian tentacle porn herself, she's heard it from her guy friends who have been around on the internet and had to show her "this really freaky shit that Asians jerk off to." After watching and presumably gagging and punching her friends for showing her such images now burned into her mind's eye, she's forever scarred by the physical expression of love shared between a woman and her octopus. The pinnacle of the Asian stereotype of porn is stuff like this and "Bible Black," and who could blame her for being creeped out by Asian guys if Asian tentacle porn is all she knows?
WHY THIS IS BAD:
Because, for some odd reason, women in the US don't typically have sex with mollusks, Asian tentacle porn is generally frowned upon. If a woman has recently heard that Asian men like it when women have sex with octopi, she'll look at every Asian man suspiciously, even if she thinks he's a sexy Asian guy, wondering if he's imagining her naked with tentacles in all the wrong places. This Asian stereotype creeps her out and she doesn't want to be expected to fall into that in the bedroom with you. While the wonders of the internet have helped the Asian-American community get a leg up in many ways, this is one of the drawbacks of this modern marvel – spreading one country's fetish across the ocean to become another country's perverted intrigue.
WHAT YOU CAN DO:
Not being creepy is basically your best pre-emptive strike in fighting this Asian stereotype. If you come off as creepy, she'll suspect you're more likely to jack off to said Asian tentacle porn and she's not going to look at you as a sexy Asian guy. In the rare event that Asian tentacle porn is ever brought up in a conversation (and if the conversation turns to this, you should probably evaluate how you got there and show concern if appropriate), make light of it. If she asks if you're into freaky porn, make her laugh by telling her you're into something REALLY random and unexpected (just google rule 34, there's everything from Star Wars machines doing it to two cacti). If you get a laugh, she knows you're joking. Just follow it up with an offhand comment declining your interest in anything too freaky and carry on.
And there you have it, folks; 11 Asian stereotypes that riddle the minds of women everywhere. Some of you may read this and wonder what the point in all of that was and if it is necessary for me to be so negative. To that, I will respond that I am not being negative but practical – if a woman has a stereotype about me and my fellow yellow brethren, I would be doing them a disservice to not arm them with this knowledge so they can prepare themselves to fight the dating discrimination they face. While I agree that not all Asian men face hardships in dating and not all non-Asian men have it easy in this area, I can safely say that I have seen and, in some cases, felt the prejudice caused by these toxic mindsets.
By fighting off these Asian stereotypes, one by one, we can ultimately overcome them and create a new archetype for Asian men: a confident, masculine, sexy Asian man who isn't afraid to approach any woman, regardless of her race. By doing so, we can put Asian men on par with other races of men in a woman's mind where she will have no choice but to find Asian men as a sexy, masculine, tough-enough dating option.
If you missed the other parts in this series, go ahead and check them out:
What Women Think of Asian Stereotypes: The Nerdy Asian (1 of 4)
What Women Think of Asian Stereotypes: Drones, Predators, and Kpop (2 of 4)
What Women Think of Asian Stereotypes: Paper Tigers (3 of 4)
If you've done everything you can to combat these negative Asian stereotypes and you're still having trouble getting a date, then check out one of our world-renowned dating bootcamps– where we'll kick your ass into dating shape.