Have you ever thought to yourself "You know, I wish they would have a mainstream television show where they feature an AM/WF romance with a normal Asian guy?"
If you're reading this review of ABC's Selfie TV show right now, chances are the most rarest of relationships between an Asian Man and a White Female (AMWF) has crossed your mind at least once or twice. This is something I have been saying needs to happen for at least a decade, and tonight, it's finally here:
Selfie – September 30th at 8|7 CST on ABC starring John Cho and Karen Gillan.

Like the title implies, this series features a lot of… well, selfies. Eliza Dooley (Karen Gillan) is a selfie-obsessed, twitter-crazed young woman (so, you know, normal) who has worked tirelessly on her online image due to a less-than-glamorous childhood. All it takes is one really embarrassing experience (that EVERYONE captures and uploads), and suddenly, her internet cred is reduced to 0. #ouch.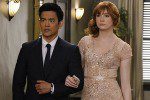 In order to regain her fans, save face, and be her old, "tumblr-famous" self again, she decides to enlist the help of her marketing guru friend Henry Higgenbottam (John Cho) to "re-brand" her image. Henry, on the other hand, thinks that it's not about getting "likes", but being a likable person. He encourages her to put down the iPhone and actually engage people in real life. He literally has to teach her how to say common, every-day phrases, such as "how do you do?" #awkward
Even though Eliza is frustrated and fails repeatedly, Henry doesn't see a need to give up just yet. He firmly believes people have traded social connections for wifi-connections and that, by reversing those priorities, people will be happier. With this concept in mind, he loyally coaches the struggling Eliza through real life, seeing the potential that she has. A promising rom-com based on the play Pygmalion (and if you've never seen it, don't worry, you don't need that background information to enjoy the episode), my hope is that ABC doesn't cancel this series before we get our happily ever AMWF after #teamhenryeliza
(Are there obvious parallels to what I do professionally in helping Asian men be more confident with women? You betcha, but this is the Selfie "Pilot" review so I'm not going to go there… #much)
If you've watched the new BBC Sherlock, you won't be too fazed when you see texts and hashtags scroll across your screen. Personally, it was a little distracting for me, but I can see that they were definitely trying to appeal to the millennial crowd. A quick look on the Selfie Facebook Fanpage already encourages viewers #irl to take Eliza's example – on September 16th, fans were challenged to log out of all social media and enjoy the world for a day. #isthatwhatgrasslookslike?Iforgot
My opinion? John Cho is simply superb, obviously. A genuine movie star "slumming" it in TV land, I think we're in for a treat each week with his acting and his character. And I loved Karen Gillan in both Doctor Who and Guardians of the Galaxy, but I definitely found it a little off-putting how forced her American accent and mannerisms are from her Scottish background.
But here's the bottomline:
This is the show worth watching for the AMWF relationship because of one ridiculously good reason – Henry's character is a literal color-blind casting choice.
Now let me just start off by saying I HATE the use of the word "color-blind". It's often used to ignore someone's race in everyday situations in the most unhelpful way possible. Quite frankly, it can be downright disrespectful. In this case, however, it's the truth – Henry's character was originally written to be an older, English gentleman, but when the auditions weren't going as planned, the casting directors became a little more open-minded. After a few phone calls, they signed on John Cho, all agreeing that he really was the perfect fit they never expected.
So what does this mean? It means that this character was written as a White person. That means no commentaries about how he's seemingly less-American because of his race, no jokes related to his ethnicity, or cracks about the small Asian penis myth and no immigration backstories. For once, he's actually a normal Asian-American guy, not hampered by Hollywood's definition of what it means to be an Asian man!
Seriously, you should all be cheering right now.
Why?
Because he's playing YOU!
He's not playing the goofy immigrant that can't quite grasp the nuances of American culture. He's not playing your background character, vaguely reminding American households Asian men exist. The very notion that they even cast an Asian actor AT ALL goes against basically everything modern Hollywood has worked for.
He's playing the normal, everyday Asian-American man that the nation can't seem to come to terms with. The Asian guy without the accent. The Asian guy in the office. The Asian guy who has friends. The Asian guy you see in the mirror every day.
The Asian guy who is worth befriending, dating, and loving.
Just like any other guy.
Gentlemen, do yourselves a favor – even if you don't like the show, sing its praises. Is it perfect? By no means.
I hope they tone down the cheese and cliches but as it stands, it's quite decent with loads of potential and a spark of something greater. The combined starpower and charisma of the two leads alone is amazing.
So Selfie's "Pilot" and series premiere deserves your extra attention because it is a rare flower (literally the first of it's kind). If this historic AMWF romantic comedy is cancelled, you won't see another AMWF Rom-Com for another 20 years; which is how long it took for another Asian American family comedy took to reincarnate in the form of "Fresh Off The Boat" after Margaret Cho's "All American Girl" was cancelled.
20 YEARS!
ABC's Selfie deserves your support. Like ABC's Selfie on Facebook. Show the producers you support their call. Let them know you want to see this in the future. Prove to the directors that their decision was a good one and that the money they invested was worth it. By doing so, it will encourage them to continue casting Asian men in "normal" roles – something we can all tweet about #awesome
Give the Selfie series premiere and pilot episode a chance.

ABC's Selfie Pilot and Series Premiere