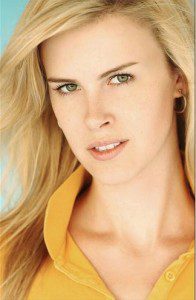 Hi guys! Sarah Ann, wing-girl for the ABCs of Attraction here to talk to you about a little thing called ASD!
What is ASD you ask? ASD stands for Anti-Slut Defense.
And no, it's not as bad as it sounds. It is simply the defense mechanism and thinking process that women go through in order to protect their reputation and self-image when the specter of sex raises it ugly head.
In practical and real life terms, it's when you- as a guy- go to a club, approach a group of girls, isolate the girl you find desirable, invite her back to your place, and she still won't sleep with you even after she's professed to being sexually attracted to you. And it's not limited to just night game, this includes girls you might have met during day game, in class, at church, or been on a few dates with and now you're getting intimate with.
I've heard stories from students who have been in bed with a girl, stripped down to their underwear, they're both making out and then she'll give him the Anti-Slut Defense auto-response like, "You know we're not having sex, right?"
Which completely confuses the guy. And rightfully so.
I know it's frustrating and if you didn't know any Anti-LMR (Last Minute Resistance) tactics, you probably just want to throw in the towel and scream, "What more do you want?!"
Well you're in luck because I'm going to discuss the reasons behind the Anti-Slut Defense mechanism, why it happens, and since we are ever trying to decode the female mind, I'll give you some ways to combat this problem plaguing the pick-up community in part 2 of my Anti-Slut Defense article.
Right now, I'm going to give you a very indepth view and explanation of what goes on in my mind and other women's mind when it comes to sex.
If you think guys have it hard when it comes to dating and sex, then think about it from a woman's perspective. We have a completely different- very specific- set of cultural imperatives and influences that make sexual expectations technically and literally INSURMOUNTABLE for us.
Let us take, for example, the mixed message that barrages young girls, that of the Madonna and the Whore. This is probably one of the most famous and most damaging of influences that drives women BATSHIT CRAZY. What this is, is an impossible contradiction for any woman to aspire to.
It cannot but done.
But here we have society which is bombarding me with messages that both society and men will worship and value a woman who is thin, beautiful, vacuous and SEXUALLY AVAILABLE. But at the same time, I'm told to be a a "good" girl who will only have sex on my wedding day while sluts will go burn in hell.
Society basically says I have to be a Sexy Whore because men value it. And that I have to be a Matronly Madonna because men value it. But I cannot be both. If I am one, then I cannot be the other.
And it's not just MEN promoting this impossible double standard, it's actually other women, our culture, our family, and our religion. This is deeply ingrained into our societal expectations and guidelines that it is no wonder young girls come out deeply damaged and flawed with warped, contradictory, and almost unfathomable attitudes surrounding sex.
And that's where the Anti-Slut Defense comes from.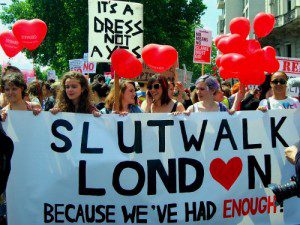 It is an unobtainable, too perfect ideal of virginal whorish perfection that no modern, sexual woman could ever hope to achieve although we're forced to try everyday in order preserve our sanity, reputation, and self-image. Not to mention protecting us from bodily harm and rape.
And people are a product of their surroundings. Men and women are constantly influenced by pop-culture, ads, music, and television. If you can see or hear it, it's an influence whether you like it or not. In case you haven't noticed, in the last century or so, the female influence in society has changed drastically, especially on a decade-to-decade basis.
For example at the turn-of-the-century in the early 1900s, women played little public role in most aspects of government and business. It wasn't until 1920-when women gained the right to vote–were their voices collectively heard. This was one of the first major movements for women as a whole. That liberation had a cascade effect, such that in the following decades, almost everything changed, from fashion and leisure to influence in society and career opportunities. The momentum continues to this day, and many women have become powerful leaders on the global political and economic stages (Hilary Clinton, anyone?).
In 2012, however, the media plays a much larger role, feeding messages into the public arena that can come off as pretty extreme—especially compared to the standards of 1900—and come at women from every angle and almost incessantly all day long. Women are featured in fashion ads wearing barely-there clothing, in submissive poses, and being stick-thin (And, worse, even now ads seem almost white-washed, with most ads and films lacking in any meaningful sort of ethnicity—there are hardly any women of color!).
Simply put, there is a lot of pressure on women—literally hundreds of times a day—to lose weight, have larger breasts, be taller or shorter, wear less, and to do less.
It might come as a surprise, then, to understand that these things can lead to the convoluted chick logic that causes Anti-Slut Defense. If women are barraged by messages telling them they aren't good enough, that they need to change, you can bet that for many women, a feeling of just not being good enough can lead to reluctance—even with a guy they like a lot.
Because of this emphasis on appearances and the pressure to conform, many women are subject to a more public version of this problem: putting women down for some perceived (real or imagined) wrong.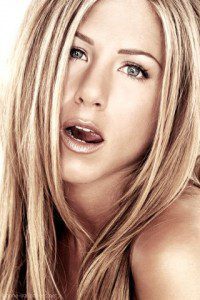 The most extreme example of this can be seen in celebrity media: stars like Jennifer Aniston can be labeled a good girl one week and a cheater the next, just on the whim of a tabloid writer or her publicist looking for a few bucks or cheap publicity. Everyone that has ever been to high school knows that there is a class "slut." That girl is someone whose reputation whether real or not, led them to be seen as easy to sleep with or maybe have many sexual partners.
The grown-up version of this (and this is purely for example) is the office slut, the boss's secretary, or the naughty teacher. You all know this woman. You may even be guilty of perpetuating the gossip surrounding her in the workplace. For some of these women, one misstep or seemingly innocent gossip can essentially ruin their reputation before they even have time to set the record straight.
Similarly in the Asian community, this antagonism can often come from other Asian women just as bad—or worse!—than from men. There are also the cases of Asians putting down other Asians. As supportive of each other as they seem on the surface, females can be a petty, very catty bunch. And, believe it or not, this behavior is even regularly seen in close circles of girlfriends.
So what does all this mean to you? It essentially means that you can do everything right but she still might ultimately have reservations stemming from her Anti-Slut Defense based on the fact that a girl has to watch out for herself! By the time she is in your bed making out with you, you might assume, "Game on!"
But: do not be deceived, because your job is not over yet.
When a girl is in this situation, there are hundreds of thoughts (those ASDs!) running through her head besides the fact that she's into you. These include but certainly are not limited to:
"I shouldn't do this."
 "I really want to sleep with him!"
 "I can't do this."
 "I wonder if he'll ever call me after this."
 "Shit, I don't have a condom!"
 "My roommate is going to be mad at me for this one!"
 "I wonder if he remembers my name?"
 "Do I even know his last name?"
 "He probably thinks I do this all of the time."
 "I wonder if he does this a lot."
The list goes on and on. While you're trying to figure out how to take her clothes off, she's trying to think about how to get out of this one without getting hurt or, worse, trying not to look like a slut.
If she's truly having ASD she will eventually vocalize these feelings by saying something like "We can't sleep together" or "I don't have one night stands." Fear not—there are numerous ways to cope with this reaction.
But, at this moment, you're probably blaming yourself, thinking "What did I do wrong?" This is totally normal to feel frustration, but whatever you do (and this is extremely important), don't get angry, forceful, or needy. There is nothing creepier in this world than a guy who tries to continue to get sex from a girl who has said she wants to STOP.
You aren't going to force her to want to have sex with your or manipulate, deceive, or lie to her in order for her to sleep with you. Instead, with a little help from me, you're going to make her as comfortable as possible with you as a man so that she'll WANT to have sex with you despite her Anti-Slut Defense.
Stay tuned for Part 2 of my ASD article!