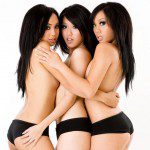 Without even trying I managed to get another Asian girl hooked on me and wanting to seriously date me. And it's almost stupid the way I did it.
With White girls, you need both social and sexual confidence and you need to man up and show it right away the first time you meet them or be forever in the friend zone.
However, with Asian girls, it's a completely different game if you want to seriously date an Asian girl. The reason behind it isn't important, it could have to do with culture, social etiquette, or it could simply be because Asian women are just as socially retarded as most Asian men when it comes to hooking up.
Anyways, here is how I did it and trust me, it'll be boring as hell once you read it, but this is what works when it comes to seriously dating an Asian girl.
I met this Korean girl in the elevator going up to a rooftop club here in New York City, found out she was here to meet a friend. Nothing too interesting so far right. Don't worry it gets worse.
When I saw her again in the club an hour later and she was with another girl, I asked if that was the girl she was here to meet.
She said no, I introduced myself to her friend, and my friend to her. Probed a bit and found out we have a mutual friend out in California after joking that I bet if I added her on facebook we would have at least one friend in common. Talked for a bit, went to go hit on some hotter girls that were more my type.
The next day, I get a call from my buddy from CA saying that the Korean girl I met sent him a long message along the lines of:
"Hey hope all is well, blah blah blah…oh by the way, I never do this, but I met your friend Johnny at the rooftop bar in NY and wanted to talk to him more, but my ex boyfriend was there and it was kind of weird. I never ever normally do this, but could you introduce us? I think he would be happy to see me again."
He showed me the message, it was literally two pages long and I thought to myself, "silly freaking Asian girls." (Word of advice, YOU should never send a message even a page long to someone you just met otherwise it'll come off as desperate and low value!)
Here's the thing. If a girl likes me, I expect her to just show it, even a little bit if we're going to be dating. But Asian girls don't, and the ironic thing is if I had showed her any interest that night, she probably wouldn't have went through the trouble of stalking me through my friend in order to date me.
So in a nut shell, here are the 7 Steps to Seriously Dating an Asian Girl:
Meet them and their friends
Quickly find a mutual connection, either a friend, common school, church, or anything that will bond you together
Then don't show any interest.
Then a day or two later, ask your mutual friend to invite them out to go eat, sing karaoke, club, or any other social gathering.
"Accidentally" bump into them again there.
Now only after you've hung out twice in a social setting do you ask them to hang out one on one.
After going on about five dates, talking about your career prospects, your car, your family, and future, then and only then can you even THINK about kissing her… God forbid you should even try before then!
So what did I do with the friend request from the Korean girl? I ignored it, and I'm looking forward to going to Indiana this week so I can meet some hot white girls that DON'T PLAY STUPID DATING GAMES. Why Indiana?
Well, aside from having a friend that lives out there, I love tall skinny blonde mid-western White girls with good, down to earth personalities who are genuine and fun to date. And these girls love Asian men who have lived in a big city such as San Francisco, LA, NY, London or anywhere else besides Indiana.
I'm teaching a bootcamp out there and I have a feeling it's going to be fun as hell. It'll be worth the flight out to Indianapolis, trust me, in fact, I say there is a 10% chance you'll meet a nice hometown girl that you'll just end up dating or- GASP!- marrying if you do come.
Seriously, what's not to love about hot white girls with good personalities that haven't been corrupted yet by living and dating in Hollywood?
But here's the thing, you'll still need game, confidence and know how to go through the ABCs of Attraction, so join me on one of our upcoming bootcamps and change your life!