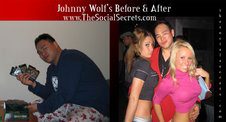 Johnny Wolf here again. In Part 1, I gave you 15 Fun Tips on How to Kiss a Girl on New Year's Eve! But now I can hear you asking, "But Johnny, WHERE do I find the best parties to go on New Year's Eve?!"
I'm glad you asked, my young Padawan. In Part 2 of my New Year's Eve Party Ideas Guide, I'm going to break down not only the best parties to go to on New Year's Eve, but also CHAT UP LINES you can use to chat up a girl when the ball drops.
Logistics: The best NYE Parties
Where to go: You have three choices for NYE party ideas.
#1) Personal House Parties: These could be intimate with just close friends and family. If you go to one of these, bring a date so you come as a couple. If you're single and not as a couple, invite as many girls as you can to the party and hope that other guys do too.
But don't jump from party to party, it is a waste of your time, and time is precious on New Years Eve, you might get stuck somewhere at midnight you dont' want to be. At max, come up with two party ideas to attend and MAYBE one last ditch party, but never more than that.
#2) City Sponsored Ball Drop: Example party ideas include Times Square in New York City, Dallas, Los Angeles, Boston, San Diego, and the Las Vegas Strip. Good news is that it is free, but bad is that it is cold, crowded, and is filled with tourtists, and familys.
If you go to one of these, you have to create your own social circle, as in, go with some friends, and randomly meet people and invite them to walk with you. Most of these places allow you to bring your own liquor but only in plastic bottles. So this is your chance to buy the big bottles of 1.75 ML Malibu Rum, with a bottle of Pineapple juice and extra cups, and have a reason for women to stick and swoon to you and your group.
#3) Night Clubs/Large Parties: This is a more expensive party idea, but can be very fun. A lot of these cost up to $100 but are open bar, which is great for you in two ways. #1, you drink for free, but #2 EVERYONE is buzzed and having fun.
Bar lines get very long, so early on before it gets crazy, find a bartender you like. introduce yourself, and give them a decent tip for your 'free drinks', as in $5 per drink, up to $20 if you're ordering for friends. And they'll remember you all night and you'll wont' waste time standing around. Aside from that, there are going to be a ton of hot 21-35 yr old women in these venues, so find a good one and stay there all night.
#4) New Year's Eve Cruise Package: I thought of this NYE party idea, but I actually haven't done one of these yet. I do know friends who have and love it though. You basically go out on a boat with a bunch of random strangers, head out to sea, and have a smashingly drunk time with said strangers. There's something about being completely isolated away from civilization on a mini-vacation.
Apparently it's like a NYE version of Spring Break out at sea. If you've done one, I'd love to hear from you. Just leave a comment at the bottom and tell me how much you liked it.
Bonus: Where ever you go, make sure you either have a hotel close by, or transportation set up for the way back. Getting home on NYE is very difficult, you're tired, and cabs will all be taken. In some cities like San Francisco, public transportation stops for some stupid reason.
So make sure you have extra room in your car, or a hotel within walking distance. There is a very good chance that the girl you've spent the later portion of the night with is going to take you up on your offer to chill out at your hotel, or house after where you two can break in the new years right by having NYE sex. You can also have the after party be at your house as well.
4 Easy New Year's Eve Chat Up Lines:
Finally, as a bonus, here are field tested, simple, but most importantly PROVEN direct chat up lines that you can use when the NYE ball drops. Leave a comment and tell me how you did!
Easy NYE Chat Up Line: "Happy New Years!!!!!!!!" – Then follow it up by either going for the kiss or giving a hug.
Direct Chat Up Line: "You're beautiful, I want to kiss you at midnight"
Direct Chat Up Line:"Hi I'm Johnny, May I kiss you at midnight?"
Natural Chat Up Line: "Hi, who are you planning to kiss at midnight?"
Works even better in 2011. If you missed Part One: 15 Fun Tips on How to Kiss a Girl on New Year's Eve! then head over right now for simple, proven tips on how to kiss the girl!
Have fun, bring three condoms, and extra cab fare because you'll never know where you'll end up that night! And if one of the things on your new years resolution is to be better with women in 2011, then sign up for for one the ABCs of Attraction bootcamps and get ready to MAKE 2011 YOUR YEAR!
Warm Regards,
Johnny Wolf
http://www.TheSocialSecrets.com – My personal Blog