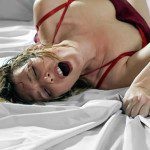 Sure you can remember flowers, a fancy restaurant, and an 'I cho-cho-choose' you card this Valentine's Day, but don't forget the one gift the woman in your life will really want this Valentine's Day: the most intense lovemaking you as a man are capable of in order to bring your girlfriend to an orgasm.
Women's orgasms are elusive at the best of times; but if there's ever a time to give your girlfriend toe curling sex (or multiple orgasms if you're feeling adventurous), it's got to be Valentine's Day.
Think about it this way: as a guy probably the one thing you really expect, and want, on Valentine's Day is a mind blowing sex. Women are no different: they definitely enjoy the sweeping romance, but a woman that's in touch (literally) with her sexuality will want an orgasm just as much as you do.
So how do you go about giving your wonderful woman, the kind of lovemaking that she both wants and loves?
First of all you've got to know that a woman's orgasm begins in her mind. Whilst the male orgasm is very visual (often all it takes is for us to see a little visual aid in the form of a hot woman) a female will need to be seduced both mentally and physically in order for her to climax.
So give your girlfriend an orgasm this Valentine's Day by kick starting her fantasies. Before you're stroking her to the female climax you need to romance her! Surprise her with a thoughtful gesture then you seduce her and make love to both her mind and body.
If you're dating a new woman then get her heart beating faster (and mind in the mood for orgasm) with an unconventional Valentine's Day date. Hit a fun fair, a boxing lesson for two, or a winter picnic: before you surprise her with your sexual technique, and give your woman the lovemaking seduction she's been waiting for.
If you're in a long term relationship with the woman in your life; treat her like it's your first date. And try as hard to make her orgasm, as you did the first time you had sex.
Get her in the mood for passionate lovemaking by showing how much you still desire her. Surprise her with a home cooked meal, or a romantic gesture, then flirt outrageously with her.
Now your woman is in the right state of mind for intense lovemaking: start to switch your woman's body on to an orgasm as well.
Prepare your woman for her inevitable climax by building up flirtatious touches and sexy strokes. Women also love it when guys are playful and direct: this attitude can work with your touches to turn a woman on to the point of orgasm.
So lead. Be direct. Be Sexual.
Know if you want to give your woman the best sex she's ever had, then it has to be OK to talk dirty to her. Stare straight into your woman's eyes, stroke her neck, wrists, and ask your woman what her best night of sex and lovemaking felt like.
Now your woman's body and mind are building up to an orgasm: undress her. A woman will feel orgasmic when you're take charge like a man. Pin her down, kiss her neck, and stroke her inner thighs until you know she wants to climax.
If you've built the sexual tension correctly you can give your woman an orgasm easily. Just put your woman's sexual needs first and use your hands, your tongue, to make your woman orgasm before you climax yourself. Besides if you give the best female orgasms, you're more likely to get them in return.
So remember if you want your woman to have an orgasm this Valentien's Day: making her orgasm doesn't start when the lights go out. Your woman's orgasm begins the second you meet her on Valentine's Day, and make her feel like the sexiest woman alive.