In the spirit of education, today I'm going to give you some insight on something that should be important to each and every one of you: my hair.
No, I'm not going to have a crazy Legally Blonde moment and try to create an analogy between my hair and politics, but I think it's a travesty that too many Asian men fail to realize the impact our hair can have on our success with women.
What happens when you spin the smoothest game, but your hair makes you look like an unwashed hobo? Odds are that beautiful girl will ignore you.
What happens when you're an amazingly funny guy who could make the perfect partner, but you're still rocking the rice bowl haircut your mom gave you ten years ago? Your ideal girl might just walk right by you.
Whether we like it or not, our hair has a huge impact on the way women perceive us. It conveys to the woman our sexual prowess, our reproductive value and general ability to pay attention to detail and treat ourselves right. After all, if you can't even be bothered to pay attention to your own hygiene and appearance, how likely are you to pay attention and take care of a beautiful, intelligent woman?
And while your hair and ability to take care of a woman don't always go hand in hand, the perception women have on your appearance is most definitely correlated with how likely they are to be receptive to your approach and presence.
So why not spend another 5 or 10 minutes making yourself better? After all, women spend on average 72 minutes making themselves pretty just for you. Spiffing up your hair is the least you could do.
But let me give you a real life example of how powerful something like a good haircut for an Asian man can be…
A few months ago, I had a student in Los Angeles who was barely five feet tall and was the epitome of fobby. Fobby hair. Fobby teeth. Fobby accent. As many tactics as I gave him, he just wasn't having the kind of success he needed because women weren't taking him seriously. The next night, we took some scissors and a little bit of pomade and completely transformed his look.
And you know what happened?
That night we caught him making out with a STUNNING beautiful girl in the middle of the dance floor. HELL YES. He looked better, and he FELT better. And more importantly, women started taking him seriously.
Here's a little secret: women LOVE Asian hair. As Asian men, most of us have been blessed with THICK hair, and a LOT of it, so we have a lot to work with and a lot of options available. But how do you know what works and what doesn't? In this article series, I'll be covering the good, the bad, and the frighteningly ugly of Asian hair.
If you're interested in learning what you can do to improve the way women look at you, keep reading! (Stay tuned for the next article, Asian Hair Gone Wrong.)
The Fauxhawk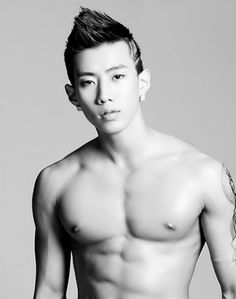 This hairstyle has been popular for many years, and for good reason. It's easy to cut, easy to maintain, and just edgy enough to catch the ladies' attention.
A lot of us Asian guys have very round or very wide faces that make us look like adorable little pandas. I am no exception. That's all fine and dandy, but between you and me, ladies don't think pandas are sexy.
But how do we change the shape of our face when we can't wear crazy bronzers and blushes like women? We change our hair.
A fauxhawk will help to elongate your face and make you look less like a porcelain doll and more like a badass Casanova. Got a professional job? You can comb your fauxhawk over and look like a businessman during the day with this hairstyle.
What to ask your stylist: Shave or fade the sides for a few inches to create a smooth transition from neck to the bulk of the style, and leave it longer on top. The sides of your fauxhawk should be slightly shorter than the middle for maximum effect (and to avoid the flat-top look).
What products to use: Avoid hair gel. Asian hair is too thick to be tamed by gel, which will flake and make you look like you have dandruff. Instead opt for high-quality waxes and pomades such as Gatsby (or for very difficult hair, a strong hair glue such as göt2b) in order to make your hair taper and stick together.
The Asian Pop Star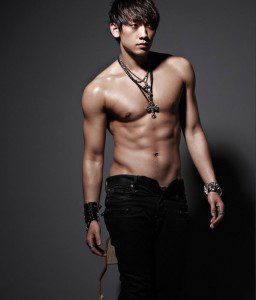 Girls love Rain (and not the kind that comes from a cloud). There. I said it. Aside from his obvious physical attributes and a voice that makes panties drop, girls love Rain's hair.
It's styled and controlled, but without having crazy amounts of product in it, so girls have an irresistible urge to touch it (and if a girl is touching you, you're at an advantage). Asian pop star hair also shows a girl that this guy is fashionable and knows how to take care of himself.
However, it works best for guys who have angular faces; if you have a round face, opt for the fauxhawk instead, because Asian pop star hair can accentuate the roundness and "cute" factor.
What to ask your stylist: Texturization and layers (and lots of them). One of the cardinal mistakes in going for Asian pop star hair is opting for hair that is all one length, which is dangerously close to a bowl cut, but having your hair layered lets you make a "controlled messy" look.
What products to use: A straightener will help you control your hair and "train" it to fall in the right direction, and using a light product like mousse or hairspray will help it stay in place for a more relaxed or professional look, or you can opt for a wax/pomade to create a messier look.
The Pompadour
The pompadour is a close cousin of the fauxhawk, with slight differences in styling. If you're not into the pop star look but you're not into being an edgy bad-boy, and you're more of a hipster guy, then the pompadour is a great option.
Like the fauxhawk, it can help elongate a round or wide face, but it is versatile enough to work for angular faces. Also like the fauxhawk, it can be combed over to fit in for a more professional environment.
The only downside to having a pompadour is that you need to make sure your fashion compliments your hairstyle; whereas a fauxhawk works equally well with a t-shirt or a James Bond suit, a pompadour begins to look clownish when paired with the same suit.
What to ask your stylist: Shave or fade the sides for a few inches to create a smooth transition from neck to the bulk of the style, and leave it longer on top. Unlike the fauxhawk, a pompadour tends to have hair of approximately equal lengths and relies on styling rather than cut for the bulk of its shape.
What products to use: Forget the glue and other heavy products that you'd use for a fauxhawk to tame your volume. Your volume works to your advantage in this hairstyle. Opt instead for a high-quality pomade or wax, such as Gatsby.
Spiky Hair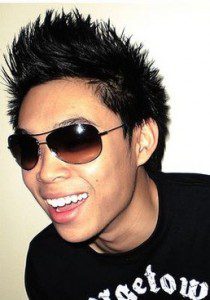 Spiky hair is quick to style, easy to maintain, works for just about everyone, and because of that is a favorite among Asian guys in their early 20s.
The problem with this style is that when you have no product in your hair, you look like a poofy frizz-ball with very generic Asian hair, and when it isn't styled or cut properly, it can be just as bad as a bowl cut in terms of making you look like a fobby video game addict. When done properly, this hairstyle can work in almost any situation, even in the boardroom. If you don't have a lot of time in the mornings to get yourself together, GOOD spiky hair is a quick and easy way to not look like a slob.
What to ask your stylist: Shape it. For the love of all that is holy, shape it. A lot of Asian guys make the mistake of cutting their hair to all one length, but spiky hair works best on hair that is cut shorter on the sides (not shaved), longer on the top, and tapered to the longest on the crown. It's also a good idea to have your hair texturized to emphasize the varied lengths.
What products to use: Avoid heavy products that will make your hair stick together like a fauxhawk. The key here is to let your hair piece itself into separate sections, and for that you'll need a lighter wax or pomade. As always, Gatsby is our favorite.
It's hard to come to the decision to change your hair. Believe me, I understand. You can't un-do the scissors, and a good haircut costs a lot of money. But a good haircut can also completely change the way a woman looks at you, and it doesn't have to be difficult to style. Having bad hair makes people treat you differently, but when you have good hair, you not only look better, you FEEL better.
In my mind, bad hair is not only not an option, it should be illegal for Asian men like us that have been blessed with the best hair in existence. Be PROUD of your hair!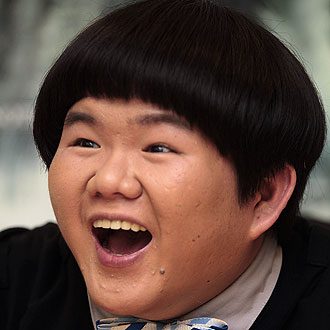 If you've been looking for a reason to change your hair or if you've grown bored with the style you've got now, today is the time to think about mixing things up and doing something a little different.
It's early in the year, Valentine's Day has come and gone, and you'll want to be looking good for the beautiful ladies you'll be meeting.
But having good hair is only the first step, and if you were still single when Valentine's Day rolled around, consider checking out one of our patented ABCs of Attraction bootcamps, where we'll kick your ass into dating shape and give you just the kickstart you need to have an INCREDIBLE year full of more beautiful women than you ever thought possible.
If you're still not convinced that your hairstyle needs an update (or you're reading this around Halloween and you need a good scare), then check out part 2: Asian Hair Gone Wrong!