New Year's Eve for me isn't just another day to go out and try to get laid, it's more than that. It signifies a new year and a new beginning. It's also a day where it's okay to go crazy and transform yourself into a different person. Go wild and test out all the theories you've read about and push your limits, you might even transform into a totally different man when you do.
Things to try on New Year's Eve: that you wouldn't normally do.
1. Peacock– Normally dressing in pink boas, rinestone cowboy hats and flashy lights would get you mocked at, but NYE is one of those few days where it's okay to dress up. Wear a masquerade mask or have a neck full of beads, girls will gravitate towards the brightest, shiniest object, so you might as well make it you.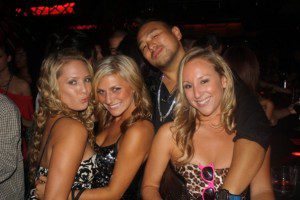 2. Wear a Tuxedo – Dress like James Bond, even if you're not going to a black tie event. If you don't want to peacock, wear a black tux and you'll stand out just as much. People will want to take photos with you, and both guys and girls will come up to you and ask why you're wearing a tux. Just tell them, it's New Years Eve.
3. Walk around with a bottle of champange – A great way to stand out and show that you are having a good time is to walk around with a bottle of champange. Either with enough flutes to share, or drink it straight out of the bottle. Obviously don't be a dick and do this with the host's champange, bring or buy your own.
4. Kiss a girl without saying a word – Try it and it will change your life. NYE is one of the easiest times to pull this off and it's magical when you do. Spot a girl from across the world, look into her eyes and smile. If she smiles back, slowly walk to up her and kiss her without introduction. Your mind will be blown when you pull this risky move off, seriously one of those game changing moments in a man's life.
5. Have a one night stand– NYE is a fantastic night to go for the pull, if a girl likes you enough to kiss you, you might as well go for it and see what happens. Simply take the girls hand and lead her somewhere more private. Tell her, "hey let's check out the roof" or somewhere similar that is quieter and more private. Then go for it, you have nothing to lose.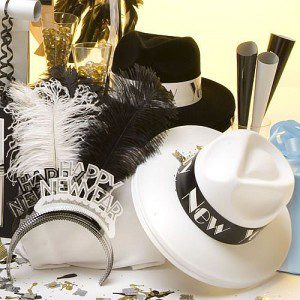 6. Get lots of phones numbers, early and often – You will meet a ton of people on NYE, most you won't remember in the morning. So if you meet a girl you'd like to keep in touch with, tell her, "hey before I forget, give me your number." and text her a few days later saying you met at the NYE party. You'll meet a lot of nice, normal girls that don't nomally go out clubbing every weekend at NYE parties. Some of these girls may be keepers.
7. Go somewhere to kick off the New Year right – Don't make the mistake of leaving it up to the last minute and end up no where. I truly believe that it's bad luck not to kiss a girl at midnight on NYE and it's extra good luck to do it somewhere special. Every year for NYE, I use it as an excuse to go somewhere crazy to kick it off.
Las Vegas is always a great place to spend NYE. The nightclubs are packed and crazy, but even the closed off strip itself and Fremont experience at old town vegas are great places you can legally drink on the street. This is a place you for sure want to either Peakcock or go James bond. I went one year with a ton of mardi gras style necklaces and girls loved it.
Brooklyn Warehouse Party – New York itself is already awesome, but Time Square during New Year's Eve is too crowded with familys and too cold. So we decided to go to an underground, arts district warehouse party instead one year and it was awesome. I wore a masquerade mask with red feathers, and was still far from being the most peacocked person there. Amp it up if you end up going.
Bali – I've always wanted to spend New Year's Eve on the beach and Bali was expectional, tons of Australian tourists come to party and kick off the new year.
Full Moon Party – Imagine an entire hedonistic island that is normally quite and only fills up every month for a three day party. 25,000 people, mostly tourists 18-25 years of age coming from England, Canada, Australia, Sweden and Europe come to go wild, drink, and get naked on the beach. The only problem is, there is so much going on and so many people there, most guys end up lost without a game plan. Luckily the ABCs of Attraction methods work there amazingly well.
Check out this review one of my chinese students wrote after the last one.
If you can't make it to the New Year's Eve party, don't worry, the party happens for three days every month during the full moon. It's one of those must do things for 2013, take a vacation, visit thailand, go to the most epic party in the world, and learn for once and for all how to pick up and hook up with the women of your dreams.
Warm Regards,
Johnny Wolf