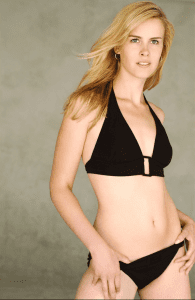 Hey guys, my name is Sarah Ann and I have a confession to make before I tell you how Asian guys can get any girlfriend you want.
I dated my first Asian man when I was introduced to the ABCs of Attraction in 2008 and I've seen first-hand the prejudice and discrimination that Asian men sometimes face in the dating arena. Before that, I had no idea about some of the unique issues that Asian guys had to deal with.
But let's back up for a minute and tell you a little about me…
I consider myself the sweet, girl next door who was born and raised in the Mid-West before moving to California to pursue my dreams of acting and modeling. I was the drama geek who was an introverted, artistic wall flower type in highschool. As a result I would say I have a first hand understanding what goes through a shy, sweet girl's mind when men approach her.
I've been a professional wing girl since 2008, and have extensive experience and a wide understanding of what is needed for guys to get results with girls whether it's learning the fastest way to get a girlfriend or being more comfortable in your own skin. I'm patient but firm, and I pay incredible attention to detail which has helped hundreds of men get the girlfriend they want.
What Students Are Saying:
"I haven't had a chance to say thank you, Sarah; what you guys do for guys like me is amazing. It's nice to know someone recognizes that we weren't all born with the ability to pick up girls." – Dave C

"What can I say about the talented Wing Girl, Sarah Ann, that hasn't been said in the countless online compliments I've already seen? She's a lively addition to any social circle and glows when she smiles. She'll even laugh at my toilet humor." – Nate H

"Sarah is super duper focused on the students' success, Super duper fun. Her feedback and motivation was useful and right on." – Sinc
I can't tell you how rewarding it is to see a student, a normal, nice Asian guy get the results and girlfriend he always wanted.
So if you want to contact me, here is my email – sarah.ann@abcofattraction.com. I attend many of the Premium bootcamps and teach the Dating & Fashion Makeover course. You can have your very own wing-woman  teaching you. Click this link to see all our PUA programs.
In my first video interview, I'm going to reveal secrets direct from the "opposing" camp and give you my female perspective on pickup from the woman's point of view. As your fashion makeover expert, I'll not only talk about how Asian guys can improve their chances of getting any girlfriend they want, I'll also talk about my first relationship with an Asian man, what it was like being the girlfriend of an Asian guy, and how the media has influenced me to think of Asian men.
Now where else are you going to get the straight, unvarnished truth?
Sarah Ann: Why Girls Give Out Fake Numbers, the Kino Turn, Walk of Khan, & Silencer (1 of 4)

Sarah Ann: Her Favorite Buying Temperature (BT) Spike the French Pillsbury Dough Boy (2 of 4)

Sarah Ann: A White Girl's First Time Dating an Asian Guy or PUA (3 of 4)

Sarah Ann: 6 Tips on How an Asian Guy Can Get a White Girlfriend (4 of 4)

After you watch my videos, go ahead and check out my Dating & Fashion Makeover Class. Your success with women will change so quickly, you'll hardly believe what's happening right before your own eyes 🙂
In the meantime, while you're still getting ready to take a bootcamp and supercharge your lifestyle, skillset and results to the next level, purchase JT "the Asian Playboy" Tran's book "Modern Asian Gentleman" which breaks down in painstaking detail the ABCDEF System.
You'll learn the exact steps and phases of how to be more successful at attraction, seduction and dating. You will get to see how a very average looking, short, Asian guy like him was able to achieve dramatic- almost unbelievable- results, without being either handsome or rich.