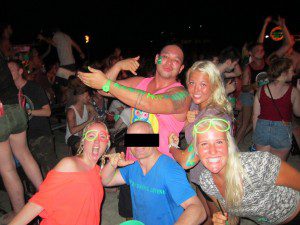 Thailand is a dater's paradise. Beautiful weather, beautiful beaches, and plenty of beautiful girls. But many people ask us, does the ABCs of Attraction only work in America? We're here to tell you that if the ABCs structure works here, it works everywhere. The ABCs team is there for budding PUAs all over the world, and we have even been to Thailand to truly change the lives of men everywhere!
All of the ABCs of Attraction seduction bootcamps in Thailand are hosted by the legendary Johnny Wolf, a former ABCs student turned instructor who shares his legendary skill at dating bootcamps in this beautiful environment. But don't just trust my word when I say that our rounded, holistic system works for you without being bound by national borders. Before you decide whether or not one of our world-famous seduction bootcamps in Thailand is for you, check out this seduction bootcamp review of the incredible Thai dating bootcamp with Johnny Wolf himself:
Hey guys, I'm from Sydney, aged 25, but live and work mainly in Asia; although I travel frequently to Europe/LA/Japan. Prior to the bootcamp with Johnny Wolf, I basically had problems approaching white girls. I think the major contributing reason was because a few years ago, I received a harsh rejection from a white girl that I approached in Sydney (she was my first, and last until this bootcamp). She had said "I would never date an Asian, and told me to f* off". The bootcamp I had was a 1-on-1 with Johnny Wolf at the Full Moon Party, Koh Phangnan, Thailand. This will be a short review, because I'm at the airport tonight about to fly out; but feel free to ask questions. I opened a lot of sets, so I can not remember every interaction; but here is a brief summary.

Day 1:
Met Johnny on the ferry to the island in the morning – funnily enough, he was talking to everyone on the boat before we even got to the island.
Bootcamp started at ~4pm
– learnt ABCDEF structure
– learnt A and B, body language, ways to raise buying temperature, etc.
– During the first night of the bootcamp I approached 10 hot white girls
– Note that before this night, I had never EVER kissed a white girl.
– I kissed 6 of them! I did get one harsh rejection from one of the girls, but I forget what she said.
– I was surprised I was comfortable approaching, but approach anxiety got in the way of me occasionally (as with the subsequent nights)
– got AMOGGED by a LOT of white guys – was taught how to deal with this on Day 3

Day 2:
– debrief day 1
– approached girls on the beach (something I've never done before – and they were hot!!!). I agree with Johnny with one thing – if they are hot in the day in a bikini on the beach, they would be even more stunning at night
– learnt C and D in the afternoon
– In the evening, I can't remember how many sets I opened, but I got two makeouts
– got one hickey from a white girl, and a kiss on the lips in <5 minutes from her friend. The girl that gave me a kiss said she had a boyfriend…I replied to her "It's ok, he won't find out"….
– I opened a two set of girls that was memorable. The first thing the girl said, was that "Can you guys go away? I just kept talking and talking, and they responded relatively positively. One thing I realized from this bootcamp is that I typically eject from social interactions way too early. Talking and talking after she said this made me realize that I need to push past my comfort zone to improve.
– at the end of the night, approached a 2-set of Irish girls dancing on the table and bounced them to another bar – took shots – kissed – Johnny was with the other girl the whole time, he kissed his girl too. We then did some crazy dancing and walked on the beach back to our place (beachfront) to use our toilets haha…..but they went in to the toilets together, and left straight after…their buying temperature was waay too high.
If you think that this student's experience at this dating bootcamp is incredible so far, you're in for an incredible treat. Check out the rest of his seduction bootcamp review and get the rest of the story: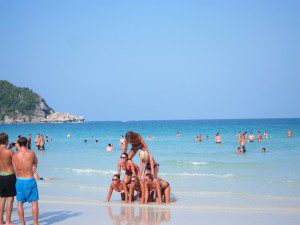 Day 3:
– debrief day 2
– learnt E and F
– learnt how to deal with AMOGs
– most of my sets failed to hook on the final night – but was a crazy fun night nevertheless…talked to a lot of people
– practiced dealing with AMOGs (seemed no shortage on this island!)
– when I was talking to some Swedish girls, some white guy came up to us and started AMOGGing. I used the AMOG techniques that Johnny had taught me.
– I talked to a girl and we went up to her place and started making out….AND HER FIANCEE WALKED IN. HE LOOKED LIKE HE WANTED TO KILL ME and I ran back down to the beach to find Johnny. The girl had lied and said she was traveling alone! Johnny said that I should have taken her to my place and not to buy into her frame of walking her home…

This bootcamp was definitely worth the flight to Thailand and the 12hr+ trip from Bangkok to the island. Johnny Wolf was an excellent teacher.  I would recommend this bootcamp to friends. I had previously never been to Thailand before, and now I'm thinking of going there to live for a few months!
-Speed
If you still find yourself having trouble crossing the divide between dating Western girls and dating Asian girls, if you just can't master the difference, then sign your ass up for one of our Asia PUA Bootcamps and we will whip you into dating shape: whether in Japan, Korea, Thailand, Singapore and China (From Hong Kong to Beijing and Shanghai).
What are you waiting for?
more information on the legendary Johnny Wolf's doing in Asia, check out this dating guide in Shanghai, China!