It's early Wednesday morning and I'm a pent up ball of excitement and nerves. After an extensive casting call through E! News, I've been selected to be on the reality dating show, "Dating #NoFilter."
But unlike for other men, this show means a lot more than just for me, but also to my fellow Asian brothers around the world. I feel the weight and pressure on my shoulders to succeed. There aren't a lot of us Asian men who make it on TV and even fewer who do so for positive reasons.
Call time is 11am for the start of my blind date and so I do my predate ritual that I religiously do before every first date:
Everything I say on the show that I do before a date, I do.
I work out.
I jump on my trampoline.
I do my affirmations.
I have my outfits all picked out for the date since we are shooting in two different locations.
For some men, this might be overkill, but I'm a former captain in the Air Force which means I believe in being prepared. What this ritual helps prepare me for is the technical aspect of conversation and executing a fun first date, but there's another, more important, level to this show.
What most people do not realize is that I do this for a living and I teach this to my clients (after having been a student myself when I was fat, bullied and even contemplating SUICIDE), but I'm still nervous as Hollywood doesn't like to show Asian men in a positive manner. So it's my responsibility to not only have fun, but to also show my date a good time AND to be a positive role model for my Asian brothers.
That's a tall order for a blind date, but I believe I'm up for the challenge.
The E! News producer for "Dating #NoFilter" messages me that the Uber is arriving and I was going to be live in thirty minutes.
Before the blind date, I make sure I am ready from the outfit I wear, from the logistics of the date, and to my state of mind. My intention of the date is to have fun and bring her the most value. This date is more significant than any other date because I have the awesome responsibility to represent all my fellow Asian brothers to the world who will be watching this show.
After a 30 minute drive from Santa Monica and Malibu, I finally arrived to the date location I chose. The producers wanted me to select the locations for the date so I made sure I followed the ABC method for first dates.
The goal of the first part is I want to provide a fun, memorable experience for her so I chose Malibu Wine Safari. The environment is full of wine and cute animals which only supports me. The "Dating #NoFilter" producers let me know it will still be an hour and a half before my date arrives.
The old me might have been wracked with nerves, but the new me, having trained extensively with the ABCs Of Attraction, to me that hour and a half is preparation time. This date is extra special and I plan on using all of my moves and first date routines like: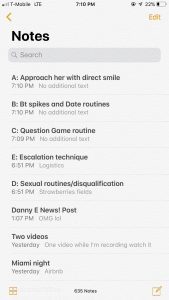 The Comfort Sex Sandwich
Strawberry Fields
King and Queen Kino
Question Game
And more.
I use my time wisely and study each routine in my iPhone meticulously until my date arrived.
The E! News producers tell me that my date is here and the crew starts to film. I am ready to go.
There she is, a super cute and vivacious blonde by name of Maury, walking down the stairs looking all sexy in her jean shorts. However, I come back to the present since I know I am not only seducing her but all of America. It's time to show the entire world how fun, successful, confident, masculine, and sexually attractive Asian men are.
I get up and hug her with a compliment followed by a BT spike. I am not here to play games. I start immediately going through my routines but then the producer stops me!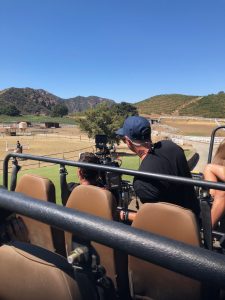 It's the reality of TV, but the "Dating #NoFilter" director will make NUMEROUS cuts in the middle of the date and even in the middle of my conversation. It dawns on me that I have to adjust my game because the stops will continuously happen during the date so they can capture the right moments for "Dating #NoFilter."
This is perfect because now I have more time to practice my routines and my strategy for seducing her.
The safari tour starts and we go to Benny the Giraffe. Oh Benny.
He BT spiked her and a hint of sexual innuendo with that long tongue of his… This is why the environment and experience of the first date is crucial. You want the girl to associate a positive response with the date and you.
After the giraffe, the crew takes us to wine tasting. This is where I go into the Question Gameand I truly start seducing her.
We start with fun questions and I ask her the most important question: Have you ever dated an Asian man?
As predicted she says no and was never attracted to an Asian man. That moment I decided, I am going to kiss her before the date ends.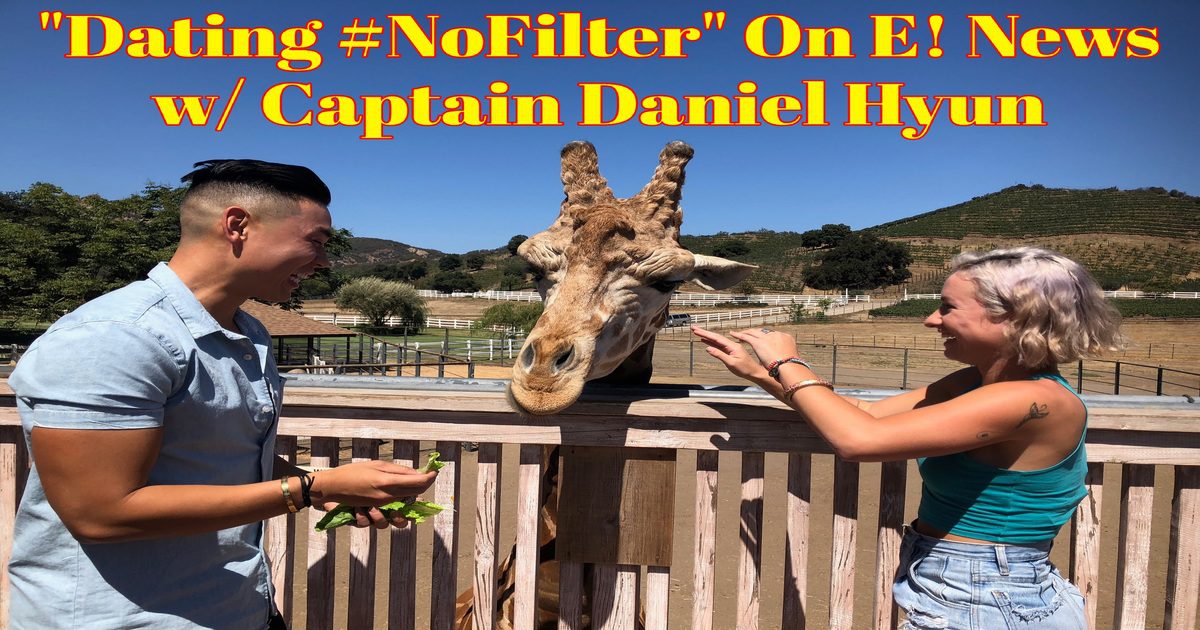 After the wine tasting, the crew separates us for our individual interviews. This is where they question us on how the date is going. I speak for myself and I tell the "Dating #NoFilter" crew that I am enjoying myself and my date is awesome.
Then the first part of the date ends and we are told that we are moving to the restaurant location. They tell me I have two hours and they will escort me to the next location. We get to the restaurant and they tell me I can't see my date for another hour. This is perfect because I get to strategize even more. I knew that we are sitting down and this is my chance to escalate and go in to D (Dominance, Direct Intent & Disqualify) and E (Evaluate, Escalate & Extract) phase of the the ABC's method.
Finally, I get the cue to start walking towards my date. I am wearing my best suit and as I head to the restaurant, I see my date looking beautiful under the Malibu sun. She is wearing floral dress and she is ready to fall for me.
I sit down and tell her my date rule where she gets to sit next to me. From there I do my wine routine and I order and take lead. I go immediately into the Question Game and we develop connection and comfort. I knew before "E" phase I have to get into deep comfort first. I used my comfort and DHV stories and then when she opens up, I transition into strawberry fields.
We start escalating further with sexual questions and I can see the tension building. And then just as I am about to go in for the kiss, the "Dating #NoFilter" crew stops us. They let us know it's time to end the date. They tell me this is the best time to kiss her. Even the crew knew the tension was building.
We continue the date and this is where I take lead to end the date. I let her know I enjoyed today and that I want to her see again. She agrees and then I slowly move forward. And Bam! ABC kiss close!
I kiss her and then the crew ends it.
(See my reaction live as I watch the episode I'm in for the first time. From joy, embarrassment, pride, anger, and victory, see the roller coaster of emotions as I see myself represent Asian Masculinity on TV for the first time.)
With the camera off, I figure out logistically to see her after the show. However, the "Dating #NoFilter" crew stops us and says that they called us separate Ubers.
We both cannot go on the same Uber due to #MeToo laws under contract. The show cannot be liable for anything that happens if something happens even though they trust me.
Sadly, we set another time to meet after my Eurotour trip since I was coaching that weekend (The #1 Inner Game Experience for Asian Men). We kiss goodbye and I make sure she gets into Uber first.
I believe I represented Asian men well, but I can't control how E! News will edit the date or how the comedians (like Zach Noe Towers, Rocky Dale Davis, Kelsey Darragh, Cara Conners, Ben Bizuneh, Ben Evans and Nightly Pop's Nina Parker) will choose to joke and/or clown me because of my race.
I can only control what I do and how I positively represent myself for my Asian brothers.
Check out the episode yourself on E! News on Jan 22 at 10:30pm PST.
What do you think? Leave a comment below and I'll do my best to respond to your questions!
★ FRIEND CAPTAIN DANIEL HYUN ON FACEBOOK ►
★ TWEET AT CAPTAIN DANIEL HYUN ON TWITTER ►
★ SUBSCRIBE TO CAPTAIN DANIEL HYUN ON YOUTUBE ►