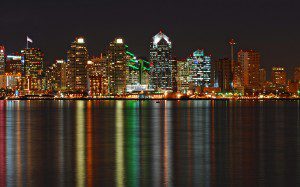 A majestic skyline beyond a sparkling bay marks San Diego as one of the most beautiful cities in California, a land known for its attractive women and unique venues. This is a PUA's heaven on earth, and the ABCs of Attraction team descended upon San Diego, California, with life-changing wisdom for eager young students and world-famous ABCs of Attraction pickup dating coaching for San Diego, all in our legendary seduction bootcamp!
A lot of people ask us if we only teach in Los Angeles when we're in California. Of course not! San Diego is one of our favorite places to go. It's right next door to LA and has all of the glitz and glam, but it's not nearly as crowded with the stuck-up elite. That's a win-win situation right there!
Not yet convinced that San Diego PUA Bootcamps in this incredible city is for you? Then keep reading and check out what one of our students had to say about his experience:
"Greetings Group! I just took my bootcamp in San Diego with Kevin and Gareth and I wanted to share my experience with all of you. I have to say that it was a very difficult three days of personal growth.
Background: Before I go into my bootcamp I wanted to give a little background. I spent the past 10 years of my life going to college and then focusing on my career. In addition I never really focused on being social, until a friend asked me when am I going to get married (I am in my early thirties). It did not occur that I neglected this aspect of my life, So hence, I decided to take a bootcamp.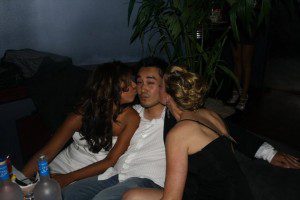 Day 1
I got to San Diego a little late because I traveled all the way from Los Angeles. Fortunately I was the first one there. Upon arrival I was formally introduced to my instructors for the first time. Got to say, I thought that they were kind of weird at first, and I came across asking myself "Are these guys really going to be able to help me." Here you have a guy who looks like a rocker and then a skinny Asian dude. However, over the three days they would prove me wrong.
Lecture:
Once all the formalities were settled and all the other students arrived we got to work. Kevin each asked us "Why are we taking the bootcamp?" I thought about his question further and I will save the answer later in my post. After this we went straight in the pre-bootcamp homework that each student was assigned to do, which was to memorize our canned openers and prepare our stories for the field exercise later that night. Personally I can not speak for the other students, but I struggled with the canned opener and telling my stories (this would show later in the night). As we were preparing our material Gareth noticed that I was using a lot of "you" statements alot and I was not using my voice properly. I wanted to bring this up, because it showed that I did not have self confidence in myself, which we immediately began fixing for the night. Also, we learned this cool technique on "kino escalating". I am not going to go into detail but everyone who took a bootcamp knows what it is.
Field Exercise:
First I have to say this "I HATE NIGHT CLUBS". Never the less I see the value of choosing a night club as a learning experience. Kevin set up our goal for that night which was to approach. I was super nervous before I got there and Gareth had to coach me to make sure I was ok. Once there all us got to work. To this day I still remember the countdown 3……2…….1 go open the set, and I got blown out a lot! However, I learned something. REJECTION REALLY WAS NOT THAT BAD. In fact you start to become numb to all the rejection, and to my surprise some of the girls were open to talking. After the experience we all adjourned to debrief and discuss the event of the night."
It's not uncommon for guys to be afraid of rejection and afraid of the high-energy nightclub atmosphere. People tend to fear the unknown. But this student bravely faced his fears with our pickup dating coaching and overcame them in his seduction bootcamp. That's not all he had to say about his experience in San Diego: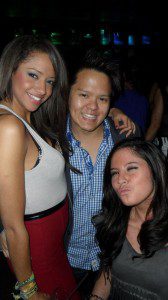 "What I learned personally from the first night.
1. Don't brain fart out in the club.
2. What I was wearing was not acceptable in a night club environment.
3. Know the material cold.
Day 2
Lecture:
For the second day I worked exclusively with Kevin. I openly discussed with Kevin and Gareth that I went dead after using my opener, and I struggled with taking my opener and going into my stories from there. Kevin decided to shorten the opener, which was easier for me get to my stories, and it was easier for me to memorize. For the rest of the lecture portion that was all I did. I worked on memorizing my opener making sure my stories were down pat, and get them ready for the field work that night.
Field Exercise:
We again went to a club. This night felt a little different. On day 1 I felt super nervous, and it showed. On day 2 I was still nervous, but no where near as bad as day 1. In addition to that I felt more stronger. So on this day I got a small pep talk from Gareth and I went and tried to open as many sets as I could. I was pretty happy this night. I talked to a lot of hot girls and I was able to carry a conversation with the sets that I opened. Not only that I got blown out only once, which was a big improvement for me. We did not do debriefing that night because our instructors scored with chicks over at the club. Lucky bastards.

What I learned
1. Need to improve my transitions from my opener to my stories
2. Need to maintain the set longer. Got to hook them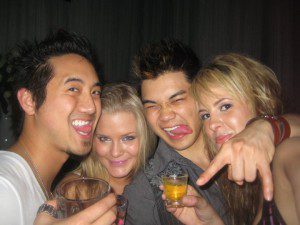 Day Three
This was perhaps the funniest day for me. We did not go to any night clubs but I felt different and Kevin noticed it as well. I missed the debriefing, but we went shopping for cloths. I personally believe that FASHION IS OVERRATED, and that you cannot cover a jerk from being a jerk. Never the less this was an education, and I was up for it. Over the past three day I learned a lot and this was no different. I learned from Gareth essentially the in's and out's of fashion, and the little details to make an individual stand out. In addition to that I learned the little things on how to create my own sense of style. We finish the day by discussing how to use the phone more effectively for an individual.
Conclusion:
This may sound weird but I really enjoyed my bootcamp experience. In the past three days of the bootcamp, I had to really push myself which I did not know if I had it in me. In fact I am going to start working on the following
1. Inner Game – I definitely need to improve on my self confidence.
2. Clothing – Purchasing clothing that is more form fitting
3. Reevaluate my life goals. Doing this opened up my eyes to what I was missing in my life, and I need to balance this with my career goals.
4. Stronger voice – It was pointed out to me that I have a deep voice, which I need to use more often.
In the beginning of my post Kevin asked "What did we want out of this". After the bootcamp I though about this question further (This will set me up for life after bootcamp). Simply put I would like to get myself dating, have the confidence to approach any girl at any place, but most of all I want to become a stronger male, who woman will take notice.
Would I recommend the bootcamp – Absolutely! If you are looking for a magic pill this is not it. If you are looking at your life and notice it needs work, this is for you. The bootcamp will show you what you are missing, and how to fix yourself. Thanks to Kevin and Gareth. Both of you for pushing me, but most of all to opening my eyes to what is out there for me."
-Maximus
It's always difficult to admit that you need help, and even more difficult to face deep-seated fears. But this student is living proof that an dating coaching bootcamp offers a life-changing experience. If you're tired of dating low-quality women, if you're tired of not dating at all, if you're tired of spending your nights alone in your room playing video games, if you're ready to make the change and turn yourself into a better man, then hit us up.
Check out our San Diego PUA Bootcamps and we'll kick your ass into dating shape.
If you're looking to test out your skill with women, check out our article on where to pick up girls in San Diego!