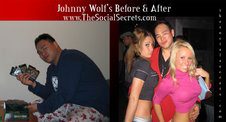 Johnny Wolf here ready to help you ring in the new year with Part 1 of my New Year's Eve Party Tips.
Let's talk about the best part of NYE (and also the most nerve wracking if you aren't a couple or have a date for the night): The Kiss!
Now no one wants to go home unkissed on New Year's Eve! Case in point, women who normally never go out to bars and clubs in New York City (and all cities for that matter) will be out there trying just as hard as you to get make-outs!
After you lay one on her lips, make sure you get their phone number because some of these girls will be top quality girlfriend material, and not the normal club girls you'll meet every week. This is YOUR chance to have fun on New Year's Eve and potentially makeout with one girl or even multiple women when the clock strikes midnight.
Since gaming on NYE is slightly more aggresive than on a normal night, here are some specific techniques on how to kiss a girl on New Year's Eve!
In recognition of this important little fact, let me give you part one of my guaranteed hookup tips.
New Year's Eve Tips and Tricks: Updated for 2011 by Johnny Wolf
Peacocking is OKAY on New Year's Eve! Even if you never wear anything flashy or if you are against peacocking, which many of us are, on NYE it is encourged! Wear a big crazy hat, flashing lights, a crazy outfit, have the scrolling LED belt that says "Happy New Years! Kiss Me" or even have mistle toe hanging from your hat. On this night, it is okay for even professionals to wear stupid, outrageous outfits and gear. On New Year's Eve drunk women are looking for the flashiest shiniest object they can spot.
Be extra social! Talk to EVERYONE, have fun from as soon as you get in the door. Don't worry about proper game, setting up perfect social proof, or any of that. Just be the fun party guy that night. Lose your ambitions because no one else will have any either. On NYE You'll have a perfect excuse to talk to EVERYONE.
Don't talk too much. Don't go too deep into comfort or share too many comfort stories, keep up light and fun. This is the night to only to touch on the surface of things. You don't need deep rapport, women don't want to get to know you tonight, they just want to have fun and be wild!
Get the phone number early. You'll lose people very quickly in these crowds, so if you find out she lives, or works near you, or you want to see her again. Just tell her right away even within minutes of meeting her "Hey you live in _________ too? Give me your number and i'll call you next year!" And bring a stack of business cards, this is a easy way to keep in touch – just make sure you send them an email the next day or give them a call saying you met last year.
Kiss her before midnight. Don't waste your time waiting till the perfect moment. Make the perfect moment! You can even say "There's no way I'm waiting till midnight to kiss you."
Kiss Close Tactics:
Happy New Year's Kiss – Try it! Go for the kiss everytime you say "Happy New Years" to a girl. The worst thing that'll happen is she'll turn her cheek. Either way, its New Year's Eve so she won't hold it against you! Rejection free k-closing!
Practice Kiss – Tell a girl you want to kiss her at midnight, if she agrees, say "Let's practice" and kiss her then.
Double Girl's Kiss – Tell two girls you want to see them give each other a New Year's kiss, and when they do, say you want one too and join the action!
APB's Blazer Kiss – Asian Playboy loves to wear cool blazers and one thing he'll do is lift his blazer, cover the two of them, and smooch her under the cover of discretion and darkness. Perfect for the girl who's shy and doesn't want to makeout with you in front of her friends.
More Easy Kiss Closes:
"There is no way I'm going to wait till midnight to kiss you" then go for the kiss.
"Hey before I forget…*kiss*…."happy new years"
"Can I kiss you at midnight" if she says yes, kiss her right then. If she calls you out on it, just say 'hey i'm impatient"
Easy sexual transition topics:
"So what's the most adventurous thing you did in 2010?
"Do you think you had enough amazing sex in 10?"
"What's something crazy or naughty even that you'd put on your new years resolution list"
Works even better in 2011. Head here for Part Two: 4 New Year's Eve Party Ideas & Chat Up Lines.
Have fun, bring three condoms, and extra cab fare because you'll never know where you'll end up that night! And if one of the things on your new years resolution is to be better with women in 2011, then sign up for for one the ABCs of Attraction bootcamps and get ready to MAKE 2011 YOUR YEAR!
Warm Regards,
Johnny Wolf