"Or How To Make 3,328% More Asian Men Contact Women"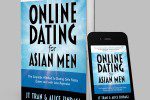 Let's imagine a situation. You're single. You've been single for a long time. Maybe you spend your weekends going to clubs and bringing home beautiful women. It's fun, but you're getting ready to move on to the next phase of your life.
Or maybe you're not so sure that club girls are the kind of women you want around long-term and you're thinking about finding yourself a serious girlfriend. You need someone different, a higher-quality woman, but you're so busy with work that you're not sure you've got the time to invest in finding her.
What do you do?
If you're busting your ass trying to climb the corporate ladder, you don't have time to waste in the traditional dating scene. You can't afford to go on blind dates with strange women every weekend. You don't have the time to waste on speed-dating with lonely old cat ladies. Your time is valuable. That's where one of the wonders of the modern world comes in handy: online dating.
Online dating websites are an incredible thing: you can flip through a menu of gorgeous women, filter them out based on your preferences, send hundreds of messages in one weekend to more girls you'd have ever hit on in your entire life, and all without having to spend the time going out. Sounds great, right?
But there's a catch.
Because the only thing you have going for you in the online world are your profile pictures and your bio, it is very image-conscious. Actually, let's stop being politically correct: online dating is also very race-conscious. You and I both know that there are a lot of women out there who have a narrow racial window when it comes to dating, and when they can hide behind the safety of their computer screens, they can afford to be vocal about it.
Need proof? Several studies conducted by OK Cupid and other dating outlets have determined that white men have a higher response rate than any other men on dating websites. OK Cupid quotes this rate at 29.2%. Asian men? 22.2%, among the lowest on the entire website.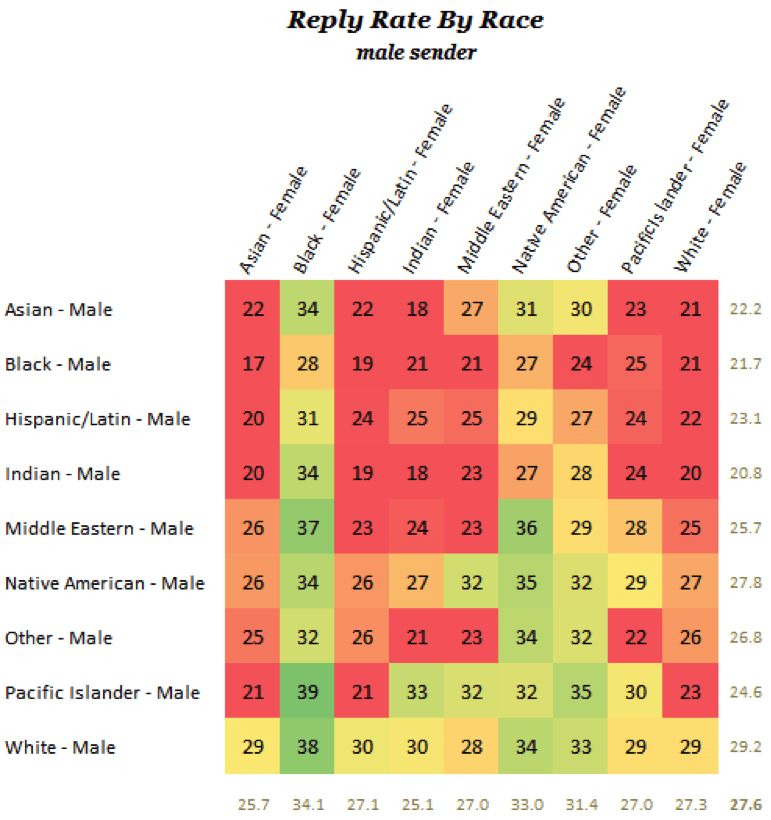 Those statistics are bad enough, but what if I told you that there's more to it than women refusing to talk to Asian men? What if I told you that Asian men are also refusing to talk to women?
I recently conducted an exhaustive "Online Dating For Asian Men" (OD4AM) scientific project on OK Cupid with Alice Zindagi (one of my wing-girls) using four female profiles with nearly identical content: two white females and two Asian females, one of each with no listed racial preference and one of each with a listed preference for Asian men.
I wanted to see if that paltry 22.2% of Asian men receiving replies were still brave enough to contact women online anyway, and my results shocked me. Below is based on our results from OD4AM: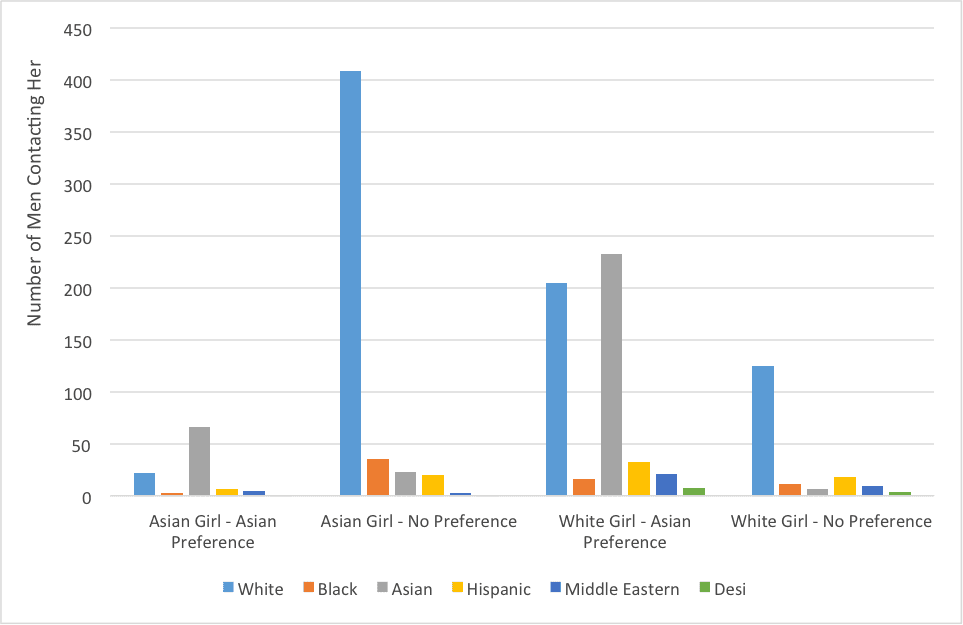 What I found was that white men contacted the women regardless of their racial preferences. White men didn't care; if they wanted her, they were going to have her, her desires be damned. But Asian men were a different story entirely.
When I compared the number of men who messaged the profiles before and after I added in a racial preference, the number of Asian men who had contacted her EXPLODED by over 3,328%, from just seven to 233. No, that's not a typo and I haven't misplaced a decimal point.

I was shocked. I won't deny that Asian men don't get the same treatment in the realm of online dating, but I don't think that holding back until women all but tattoo your permission slip on their foreheads is doing Asian men any favors, not when other men don't wait. Holding back while other men keep going only roots you in last place more firmly than before.
So I set out on a second experiment to see if it was possible for Asian men to get the same level of response as the white men who approached every beautiful woman, not just the otaku variety. I took nine of the most common openers from the thousands of messages the female profiles received and I sent over 2500 messages to the most beautiful women in California, and here's what I found:
OK Cupid is generous. The field-tested rate of responses for white men and Asian men actually came up as 21.6% and 12.5%, respectively.
When Asian men use indirect openers, their response rate averages 31.3%, which is higher than ANY of the response rates given by OK Cupid.
Yep, you read that correctly. In our experiment, we found a way for Asian men to not only beat the odds, but stomp them into the ground until it screamed "Uncle!" Our results indicate that it is absolutely possible to close the racial gap in online dating.
By now you're probably asking yourself, what exactly IS an indirect opener and why does it work so well? In the professional dating world, approaching a woman using any line that is unrelated to your interest in her is known as an indirect opener.
The idea is to break the ice and have her warm up to you before you drop the bombshell of direct interest into her lap. When you approach women with attraction first, their defenses may rise; approaching with an indirect opener lowers their defenses.

Here's an example of an indirect opener sent to one of the female profiles. This is not the indirect opener that we chose to use, but it's a good one. Our female profile was set to be 25 years old and the movie he references is iconic from her youth.
And it's not just indirect openers that work phenomenally well for Asian men – we found several other categories that met or exceeded the level of response that white men got.
We also found out which openers are an unequivocal FAILURE that Asian men should avoid at all costs. (Hint – she doesn't want to know where you work and what degrees you have!)
We even answered your most burning questions:
What happens if you're unattractive?
What happens when you directly ask a woman out on a date?
What happens when you DO go direct and tell her she's gorgeous?
What happens when you use the classic advice of talking about something she mentions in her profile?
After more than a year of running experiments, I had FINALLY cracked the code of online dating for Asian men. We took all the massive results we learned from the 3000 messages we tested, the 60 different profile pictures we used, over a dozen written profile descriptions, and our incredible phone number conversion and plugged it into one system that I've called: "Online Dating for Asian Men: The Scientific Method To Dating Girls Faster, Easier And With Less Rejection"
I know you're probably going crazy right now trying to get your hands on our research project so you can go check it out and get instant results tonight, but this material is SO REVOLUTIONARY that it will forever change the way you use dating sites like OKCupid, Eharmony, and Plenty Of Fish.
You'll learn the dating hack that will allow you to spend less than an HOUR a day and get 5 dates lined in one week! That's right, students have used my system and had more dates than they knew what to do with them.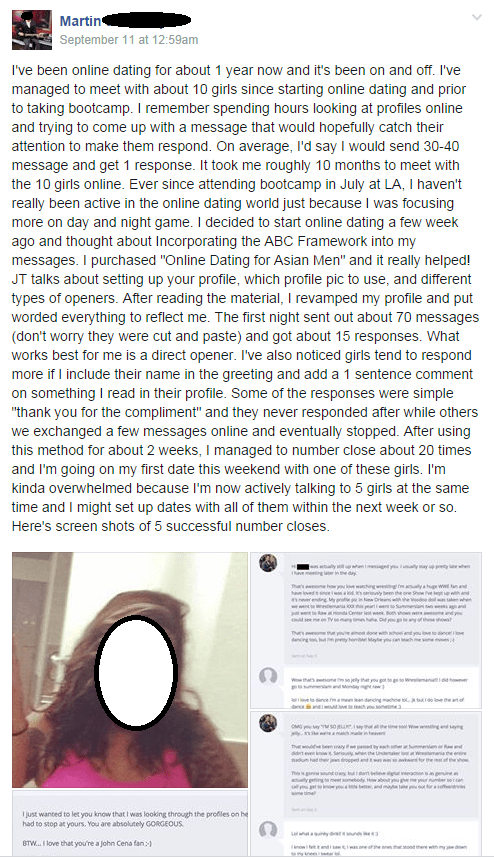 And now that I'm finished, you can benefit from this REBELLION against online dating trends is launched, add your name to the list here.
But because you're reading this, I'll go ahead and give you my two biggest pieces of advice for conquering online dating and leveling your playing field so you can get started NOW:
Don't hesitate to contact a pretty girl. Don't worry about whether she's open to dating your race. The vast majority of women today only have three real requirements out of a man: have a penis, have a job, and don't be an asshole.
It's pretty easy to satisfy those conditions. But when you focus too much on your race and everything that you think might go wrong, guess what happens? It does go wrong.


2 – Never hesitate. Other men don't and you don't want to fall behind. For all you know, you might just make her smile.
Test what works for you. Don't keep using the same lines over and over just because you think they're clever. If you're not getting results, switch things up. Remember, you're not targeting YOU, you're targeting someone else.
Look, I know it's difficult to come to terms with the fact that race is a factor in a woman's decision about which men she chooses to date. Anyone who denies that fact is a fool.
But using that as an excuse for sitting back and doing nothing only makes the situation worse. We know that women are open to dating Asian men. We even know that with the right openers, Asian men have BETTER chances than white men.
But we also know that a LOT of Asian men aren't even contacting women unless the women have an explicit interest in Asian men, and that's a problem.
If you're reading this, you're probably a very busy guy who is either tired of the club scene or has just settled his career, and either way, you're looking to step into the next phase of your life. I encourage you. I encourage you to try online dating.
I encourage you to give yourself the ability to pre-select girls YOU want instead of having to go through girl after girl you're not really interested in on your mom's blind dates because she's going crazy for grandkids.
But most of all, I encourage you to STOP thinking about race and START thinking about WOMEN!
Now get out there and start meeting beautiful women!
Check out "Online Dating for Asian Men: The Scientific Method To Dating Girls Faster, Easier And With Less Rejection" now!