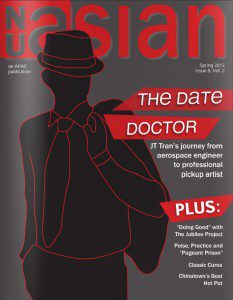 The Asian Playboy
"World's Best Asian Pickup Artist" JT Tran breaks down the ABCs of attraction. By Kerri Pang
Asian men have small penises.
Fact? Nope, says Vietnamese-American pickup artist JT Tran, who calls the claim the biggest stereotype people have about Asian men, and the one that aggravates the special treatment of Asian men. "We're considered as effeminate and not as dominant," Tran says.
Such an image damages Asian men's chances in the dating arena, Tran says, and it's his job to help.
With this philosophy, the self-proclaimed "Asian Playboy" is on a mission to see everyday Asian men become their own heroes – by training them through boot camps run by his company, ABCs of Attraction. Tran, based in Los Angeles, was voted the Best Asian Dating Coach for four consecutive years at the World Pickup Artist Summit. But, Tran says, "This was never intended to be a business." In fact, his current field has little to do with the college degree in aerospace engineering he obtained from the Florida Institute of Technology. Following graduation, Tran moved to California and took up a six-figure salary job as a rocket scientist. He lived beside the beach, began surfing and drove around in a luxury car. Yet, as ideal as his life was, one component was missing: the dream girl. Despite trying mixers, happy hours, blind dates and even speed dating, no girl wanted to date him.
"Even eHarmony rejected me because I was too cerebral and analytical," Tran says, laughing. "I realized I sucked with women. That was my turning point. No one liked me."
That was nearly a decade ago. Today, Tran is the founder of ABCs of Attraction, a company that aims to equip Asian men with self-confidence and the practical ability to attract women they desire. Self-described as the "Asian dating coach," Tran explains the teaching method as an all-encompassing, holistic approach that deals with how men think, act and speak.
"These boot camps are three days and three nights and they suck," Tran says. "What we're doing is essentially pushing these guys to grow and become the men they were supposed to be."
Tran remembers delving into the party scene four to six nights a week while still holding a 9-to-5 job as an aerospace engineer. His explorations, both adventures and misadventures, went into his blog, one that evolved to gain a large following of Asian-Americans. "It wasn't simply all braggadocio," Tran says. "Essentially, I had the first Asian-American dating blog from the male perspective."
Given his results-oriented mind as an engineer, Tran studied the psychology behind dating and bases the programs of ABCs of Attraction on psychological studies. He implemented the methods in the real world and documented his results.
"I put myself out there and was not afraid that I was going those issues. I'd have good nights, and I'd have just humiliating nights," Tran said.
The blog also gave Tran his first unofficial client: a Chinese-Canadian mother who was worried about her oft-bullied son. Given the vast need for a practical and active solution for the struggles that Asian men were facing, Tran found an increasing number of opportunities to be a spokesperson on the issue.
"People started coming to me because no one dared to ask the question of how race affected dating. And if it does, what does one do about it? Do Asian men really need a specific Asian dating coach? "Yes!" he says. "The issues that Asian men face are different from what Caucasians face."
According to the Pew Research Center, three in 10 Asian newlyweds in 2008 married outside their ethnicity or race. Within this category, the rate of out-marriage among female Asian newlyweds was twice that of male newlyweds. As society reinforces these stereotypes, Asian men are increasingly unable to break out of established labels. According to Tran's experience, the biggest stereotype women have about Asian men is how they only date within their race. He says that it is based on the psychological concept of heuristics, where women simply do not consider Asian men as potential lovers because of that pre-conceived stereotype.
"It's a self-fulfilling prophecy. As Wayne Gretzky said, 'You miss one hundred percent of the shots you don't take,'" Tran says. "The mistake is not trying, not putting yourselves out there [and] trying to protect your ego instead of embracing risk."
Nevertheless, it is inevitable that Tran's identity as the "Asian pickup artist" entails a negative connotation. Some may view his lessons as gimmicks and presume that pickup artists like Tran are womanizers. However, the founder offers another perspective. We're all confident around our friends, but all of a sudden guys get nervous talking to a beautiful girl. In that scenario, he is not being true to himself. He has become someone who's scared, anxious and unconfident," Tran says. "We're simply giving him the ability to be himself in front of her."
The journey doesn't stop there. Tran refers to ABCs of Attraction as a mechanism of social change and says addressing Asian men's struggles in the dating sphere touches a larger social issue. One of Tran's pupils, 23-year-old Ben Junya, moved to California from Illinois less than a year ago after being inspired to pursue greater dreams by Tran's boot camp. Junya attests to the larger picture and purpose behind ABCs of Attraction. I learned not just about pickup but how to structure my life, to use my powers for good and not evil, to leave people better than you found them and how you have to improve your lifestyle if you want to attract women," Junya says of his experience with the program.
As a Thai-American, Junya was drawn to ABCs of Attraction because it was geared towards Asian men. He attributes many struggles that Asian men undergo to their "tiger moms," and is intent on socializing his children in the future so they will not have to suffer the same complexes many Asians do. When I go out at night and I see a pretty girl and approach her, she automatically thinks that I'm an asexual creature because I'm Asian," Junya says. "ABCs really taught me to embrace being Asian and not be afraid to stretch my feathers out and show the world who I am." Junya's testimonial points to how the dating issues Asian men face stem from deeper underlying sources shaped by cultural upbringing. Even worse, such fundamental issues are hindrances not only to dating prospects, but also to opportunities in society. 
To Tran, this realization is especially crucial for college students, who are at a formative stage of their lives. College students should start to realize that specializing in academic prowess will still leave them handicapped when they enter into the real world," Tran says. "Confidence in dating women also translates into confidence in the job."
In fact, Tran thinks that college is the time when it will be the easiest to get a date, a girlfriend, and subsequently get married. He encourages Asian and Asian-American men in college to solidify their values and identity while they are still able to do so. If you don't get the groundwork settled, you'll suffer from a deficit for the rest of your lives, spending time trying to play catch-up. It's like compound growth: You want to get your deposit in as early as possible," Tran says. "You don't know what the edge is until you step off."