Small Talk Networking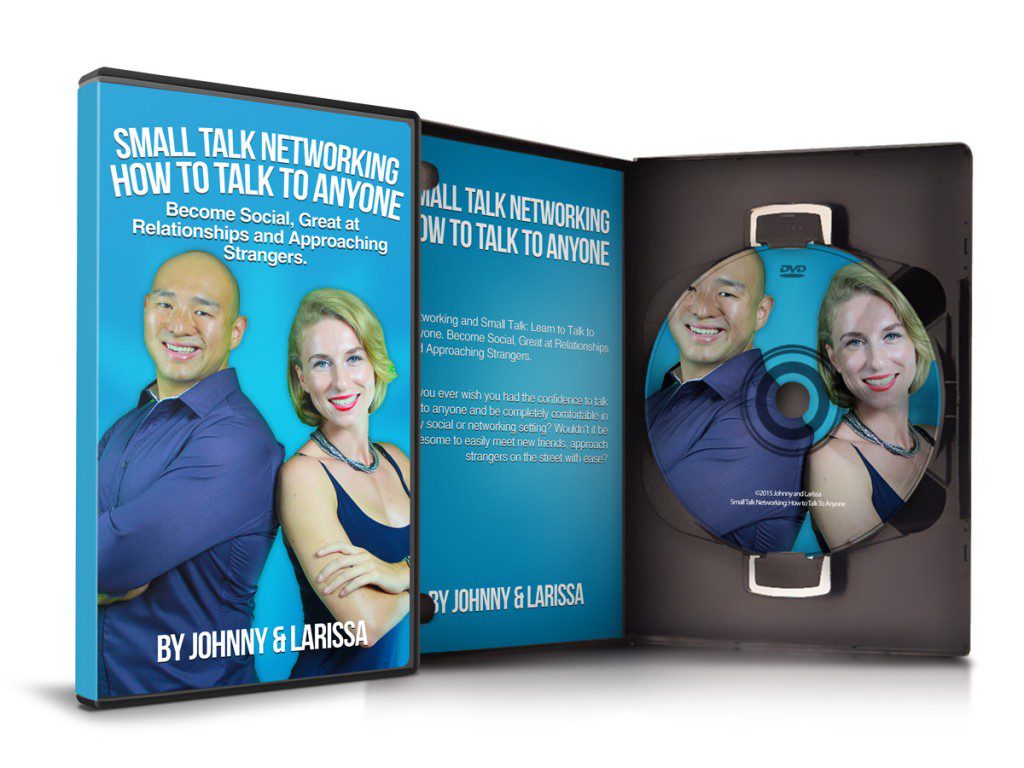 Small Talk Networking: How to Talk To Anyone
Networking and Small Talk: Learn to Talk to Anyone. Become Social, Great at Relationships and Approaching Strangers.
Johnny and Larissa
Author, Social Confidence Coach, Harvard Guest Lecturer
Larissa and Johnny have a background in Psychology and experience as Social Confidence Coaches. Together they have taught hundreds of men and women how to improve their social skills to further their careers and personal lives. Johnny is a Published Author and has been a Guest Lecturer at Harvard University on the topic of Social Confidence. Larissa specializes in 1 on 1 coaching with young women and has over hundreds of hours of experience helping others.
Course Description
Do you ever wish you had the confidence to talk to anyone and be completely comfortable in any social or networking setting? Wouldn't it be awesome to easily meet new friends, approach strangers on the street with ease?
In this course you will learn how to be comfortable in any social setting and gain the confidence to meet new people for business, networking, dating and expanding your circle of friends. In less than 3 months 1870 people enrolled to become more socially confident!
In this course you will learn dating techniques and go through relationship coaching that will have potential partners begging at your feet (no jokes!), you will learn the techniques that will allow a relationship to grow and become better with time, you will learn how to become emotionally ready for your next commitment and how to love the life you are living with your partner!
What are others saying about this course:
Small Talk is direct with full of actionable tips. If you would like to up your small talk game or grow your networking skills, check out this course.
– Alex Sartore
You guys have taken something that i feared so much and turned it into something so easy to do. I am much more comfortable with talking to people I know and even more comfortable with making small talk with people I don't know. I highly recommend this course to anyone and everyone!!!
– Tasmin De Villiers
This course has helped me "remember" how it is to meet new people, how to approach them, giving practical examples in case I'm out of imagination, keep the conversation going and keep contact with them so I can call them friends one day 🙂
– Delphine De Sanglier
You Will Learn:
How small talk has changed in the digital age.
One simple way to jumpstart your social success.
How to take charge of your social life with networking.
How to use simple daily observations to start conversions.
How to master first impressions.
The core basics of any good conversation.
How to exit a conversation gracefully.
How to get someone's contact details to keep in touch.
When and how to correctly follow up.
What some of the best openers and ice breakers are.
What conversations are safe and what to stay away from.
How to use your body language in a positive way.
What body language to avoid at all costs.
How to use small talk to become successful in both business and relationships.
What's in the course:
Through the use of video tutorials, Powerpoint presentations and real-world examples you will gain the tools needed to become relationship ready.
After the first 20 minutes of the course you will already have acquired the basic skills needed to start your journey on becoming the best catch.
In a series of quick 5 minute videos with one easy exercise at the end of each section you will breeze through this course and make you relationship ready in no time.
You should take this course if:
You want to be socially confident.
You want the skill set to successfully talk to anyone.
You want to know what to say when starting conversations.
You want to be comfortable in different social situations.
You want to master small talk and networking.
We look forward to seeing you in the course.
-Larissa and Johnny
What are the requirements?
If you have an open-mind and a desire to meet new people then you are ready to get started with this course!
What am I going to get from this course?
Over 16 lectures and 1.5 hours of content!
By the end of this course, you will be able to talk to anyone with ease.
In this course you will learn how to start a conversation with ease, facilitate and maintain the flow of a conversation, interpret body language and other non verbal communication forms and exit a conversation gracefully with a way to keep in touch.
What is the target audience?
This course is perfect for both men and women who would like to improve their interpersonal communication skills for business, networking, social or even dating purposes.
ONLY $17!
60 Day Money Back Guaranteed
Every order is backed by the ABCs Of Attraction's Best 60 Day Money Back Guarantee. If you are dissatisfied for any reason with your digital training product, you can request a refund NO QUESTIONS asked. Use the product and if for any reason you didn't like it, get your money back within 60 days. We're THAT certain you're going to love our training programs!
Clickbank & Veripurchase Disclaimers
VeriPurchase uses information collected from our customers through ClickBank in order to display in the VeriPurchase Customer Widget. This includes first name, first initial of last name, and country. To opt-out go to http://www.veripurchase.com/optout.php
ClickBank is the retailer of this product. CLICKBANK® is a registered trademark of Click Sales, Inc., a Delaware corporation located at 917 S. Lusk Street, Suite 200, Boise Idaho, 83706, USA and used by permission. ClickBank's role as retailer does not constitute an endorsement, approval or review of this product or any claim, statement or opinion used in promotion of this product.